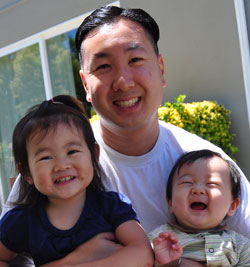 My name is Steve and I run a small business blog called "My Wife Quit Her Job", manage an online store selling wedding hankies and wedding linens with my wife and teach a course on how to create a profitable online store.
Even though I have several web properties today, 5 years ago I knew absolutely nothing about the web. I knew nothing about how to create a website. I knew nothing about html or php.
In fact, 5 years ago my wife and I were extremely lazy and did nothing meaningful with our lives. We would go to work, come home, eat dinner together and then watch television until it was time to go to bed. Rinse and repeat.
What sucked even more was that my wife didn't like her job. Every morning, I would painfully watch her go through the motions of dragging herself out of bed and forcing herself out the door. And everyday before she left, she would mutter to me with her eyes half closed, "Okay honey, I'm off to the hell hole I call my job". Even though she switched companies several times during her career, she never felt comfortable working anywhere 9 to 5. She just wasn't cut out for corporate life.
Getting Unstuck
So we decided to start a business together with the hopes of supplanting her income so she could quit her job. But for a couple who had never started a business before, it was a daunting task and my wife and I ran into the same hurdles as all newbie entrepreneurs. We were scared of failing. We didn't want to take too large of a gamble. We were terrified that we had no idea what we were doing. And as a result of all of these fears, we dragged our feet and had major problems getting started.
Until it happened…
My wife became pregnant with our first child! It's hard to express in words what went through my mind when I saw "the stick", but it was like an atomic bomb went off in my head.
For one thing, I got a sudden injection of motivation and enthusiasm. All of a sudden I felt like I needed to get off my ass and become a better person. I felt like I needed to be more responsible and to take charge of my life. I felt like I needed to get my act together and provide for my family.
As millions of thoughts swirled through my head, my primary concern became financial security. We needed a bigger house. We needed to live in a better school district. We needed to start a college education fund. We needed an emergency fund so large that we could survive even if I lost my job or got laid off.
As for my wife, she wanted to quit her job so she could take care of our child full time. She didn't want to miss a single minute of our baby's childhood.
The Dilemma
Wait what? Quit her job? While I was 100% supportive of my wife's decision to quit her job and take care of our child, the main problem was that we still needed the income from her day job. At the time she made over $100,000 a year and since we live in a very expensive part of the United States, we needed her salary to maintain our current lifestyle. Realistically, we could have made drastic cutbacks to get by but with the additional costs of having a child, we felt like cutting our household income in half probably wasn't a good idea.
So with new found motivation, we decided to follow through with our online business idea and started an ecommerce store selling wedding linens online. Even though business was slow in the beginning, things gradually started picking up and we managed to make over $100,000 in our first year of operation! As result, my wife was able to quit her job once our child was born and we didn't have to make any major cutbacks.
Today my wife stays at home with our 2 kids, spends a few hours each day running our online store and makes much more than she did with her day job. And since she no longer has to drag herself out the door to a cubicle from 9 to 5, she's much happier as a result!
Why Not Take A Chance?
Today, I document all of our experiences over at MyWifeQuitHerJob.com where I write about entrepreneurship and how to start a small business. In a nutshell, I talk about everything that my wife and I had to go through to get our business off the ground. For people who are interested in receiving a more in depth tutorial on how to start an online store, I also offer a full blown course where I teach a small class how to create a profitable e-commerce business.
Seriously, starting our own business had such a tremendous impact on our lives that I try my best to encourage others to take the plunge as well. The truth is that we are brainwashed at an early age to get good grades in school and then look for a high paying job. But in reality, it's much more fulfilling to be your own boss and call all of the shots yourself. So why not take a chance?
Anyways, hope I didn't come across as too preachy. I'm really looking forward to meeting all of you and being an active member of the group. If you ever need advice about ecommerce, I'm your man.