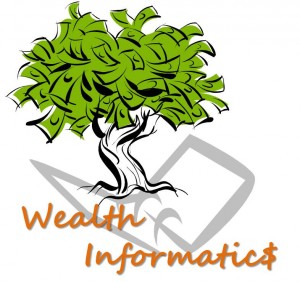 My name is Suba. I live with my husband in Southern California and I blog at WealthInformatics.com. I am not a great writer, I have never been deep in debt, I love my career and I am not even the most frugal person in the world. So what am I doing in the personal finance blogging world?
The Beginning
The origin of my blog "Wealth Informatics" is in an immigrant's experience. I came to the US about 8 yrs ago to study, without a scholarship and very little money. Until that point I had been financially supported by my parents. So it was quite a rude awakening when I realized how little I knew financially and how easily I could get into debt. Here I was, in an unknown country with very little money and no knowledge about how to handle money. So I took it as a challenge and decided to teach myself about finance.
What started off as looking for ways to stretch a dollar with frugal grocery shopping and sharing a room, grew over time into things like looking for the best interest rate for my small rainy day fund, investing and other aspects of personal finance. I graduated with $5000 in my name, with $0 debt.
The revelation
Fast forward to 2008 – I was happily married, both my husband and I working full time jobs, we had progressed professionally and personally. Then I had the desire to buy a home. The housing market was coming down and we were earning well, everything was great, except – we still had the same amount of money in the bank that we accumulated during our poor student days. Even though our income had increased significantly we had $0 to show for it.
We were trying to keep up with the Joneses and were living a paycheck to paycheck existence. We were disciplined enough to not get into debt, but our efforts stopped there, we were not saving anything. When I was in school I had a goal – graduate debt free and have a small emergency fund. But I had let myself go after getting a full time job. I always wanted to buy a house, at some point of time; I didn't have any specific goal or a vision. That mistake caused a big hole in our financial health. But that is ok, mistakes make our life interesting.
For the first time after graduation, we looked at our spending and diligently tracked everything to know "where" our hard earned money was going. Turned out it was not where I wanted it to go. We were spending a lot on things that really didn't give us any satisfaction. I didn't want to cut down everything and go back to a student's lifestyle. I wanted to cut down the spending on things that didn't give us any pleasure and channel that money towards something that has value in our life and made us happy. For example, I wanted to cut mundane expenses like gas or phone bills to an extent that would not cause me misery while allowing me to have more money for vacations and charity.
It was not a smooth ride, but after doing this for a couple of years, I am happy to say that we have now found our balance. I have learned a lot about myself in this process. I have learned a lot of different ways to do the same thing. I made a lot of mistakes and learned (and am still learning) things the hard way.We have not achieved our goal to accumulate a 25% down payment for a house yet and we don't always stay within the budget, but now we have control over our money. If I wanted to take an extravagant vacation I know what else is at stake and can make an informed decision.
The Blog – Wealth Informatics
With my renewed passion for Personal Finance, I started (re-started) searching, taking notes and reading every personal finance article or book I came across. At that time, I stumbled upon MyOpenWallet.net. Ever since then I have been hooked on personal finance blogs, some days even neglecting my husband, who needless to say wasn't very happy about it :). Surprisingly, he was the one who asked me to start a blog. He later admitted that one of his motivations was the hope that if I had another outlet, we would not spend all our time together talking solely about finance :). Thus was born Wealth Informatics.
I started this blog so that I can share all the information I learned, strategies I have tried, successes I've had and the mistakes I've made so that people who are starting out will not be as intimidated as I was. I have to define the meaning of "Informatics" here. Informatics means using data to establish information which in turn leads to generation of knowledge. Wealth Informatics seemed to be an appropriate name for my blog that strives to provide – financial freedom through information. Some of the areas I post regularly on are – information empowering debt reduction, financial planning, informed consumerism, savvy investing, fun & frugal living leading to financial freedom.
The Yakezie
I was a regular reader of Financial Samurai but never paid attention to the golden flower on his sidebar. One day I clicked on it and stumbled onto – The Yakezie. By that time it had already been a few months since the challenge started, but I was welcomed with open arms. Yakezie introduced me to a lot of amazing blogs & friends. The comments I get from my fellow Yakezie members make my day and keep me going. Thanks to all of you! I really appreciate it. I feel incredibly honored to be a part of such an amazing network of people and I am excited to start contributing to Yakezie in anyway I can.
The future
As I admitted in the very beginning, I am not a great writer. Additionally, English is not my first language. My fervent hope is that through feedback from readers and pushing myself beyond my comfort zone, I will be able to tackle complex financial topics and learn to express them in a simple yet engaging manner.
I'm excited to be a part of this group, and hope that we can learn from each other, and that I can help each of you when needed as well. If there is anything I can do to help or make your life easier, please do let me know!