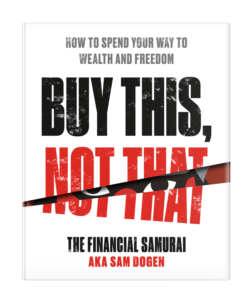 Hi everyone, Sydney from Untemplater here. I was lucky to get my hands on an early release copy of Sam Dogen's upcoming new book Buy This, Not That. And I'm thrilled to give you a sneak peak into what the book is all about. Let's dive in shall we?!
Overview: Buy This, Not That Book Review
In this review, I'll cover the following topics:
Who is Sam Dogen
Topics covered in Buy This, Not That
Why you should read it
What other people are saying about it
How to order your own copy
About The Author
Sam Dogen is the founder of FinancialSamurai.com and has been writing about personal finance topics since 2009. What I love about Sam is he writes everything from firsthand experience, which is rather rare these days.
Too many bloggers, websites, and authors in the personal finance arena are impersonal, out of touch, and dry. I work in online media so I know of countless examples of articles that are written by outsourced freelancers with no personal expertise in the topics they write about.
Most of them are just googling and copying what other people have already written. How misleading and lame is that?
Expertise You Can Trust
However, Sam has not only been writing about personal finance for 13 years, but he also has his MBA from UC Berkeley and worked in the finance industry for an additional 13 years.
In addition, Sam has invested in stocks, bonds, ETFs, mutual funds, businesses, private equity funds, structured notes, treasuries, CDs, P2P lending, real estate, REC, structured debt, and more.
He also has an abundance of firsthand experience with wealth accumulation and management, retirement planning, education planning, debt management, passive income generation, severance negotiation strategies, and so much more. It's no wonder over 90 million people have been visiting his website for years!
Buy This, Not That is the best personal finance book you will ever read. I'm pretty sure it will be a bestseller and an all-time classic as well.
Topics Covered In Buy This, Not That
What's impressive about Sam's book is the wide range of topics that are covered. His style gets straight to the point, which I love, so you don't have to weed through any fluff.
Here's a list of some of the topics he covers in the book:
Optimal financial decision-making
Differences between good and bad debt
When it's better to reduce debt or invest
Tips on building passive income streams
How to invest in real estate without a lot of money
Smart spending rules for both large and small expenses
Strategies to minimize regret
Advice on how to live your best life
Buy This, Not That became a Wall Street Journal bestseller in its debut! You can pick up a copy at Amazon or anywhere you buy books.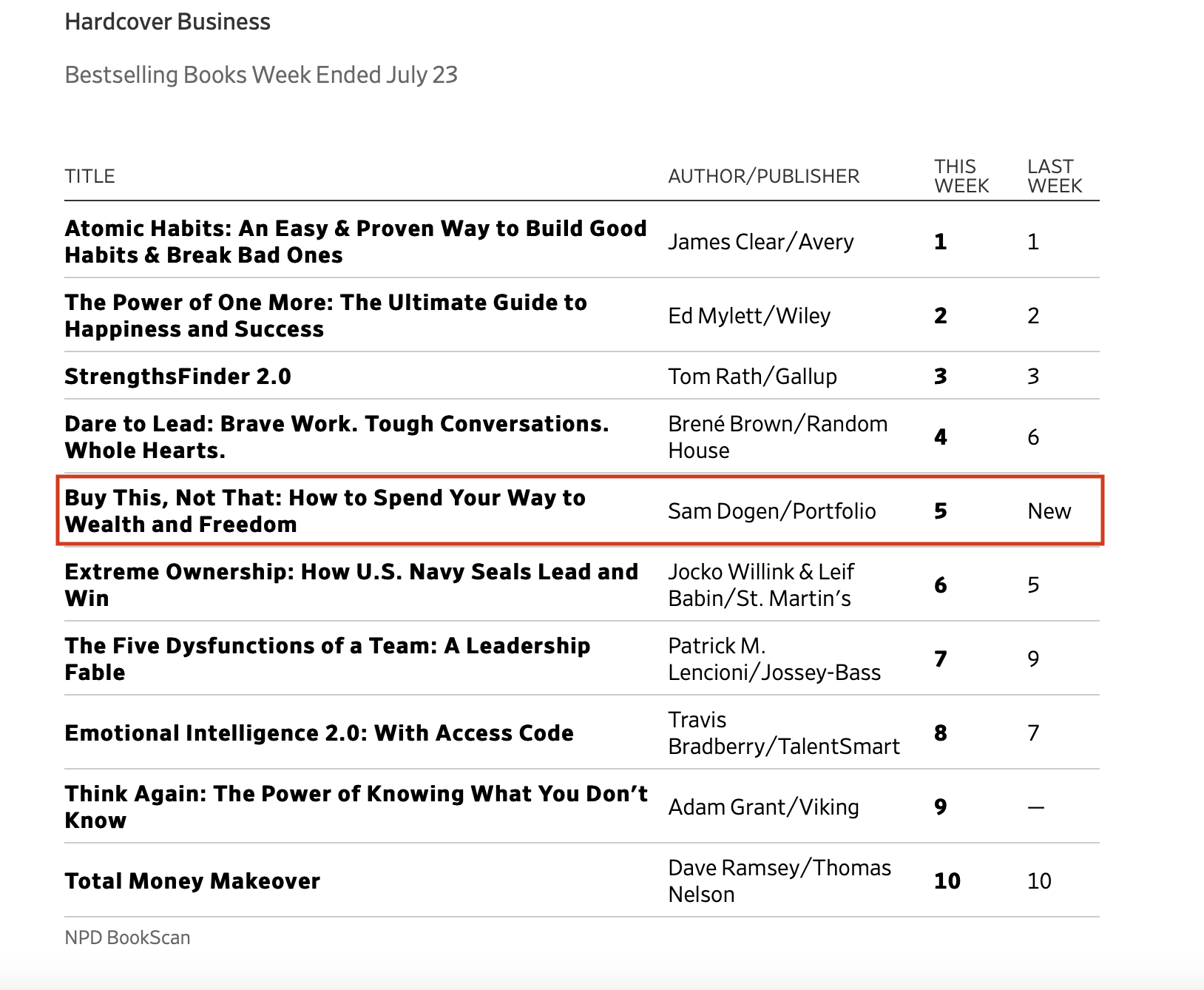 Why You Should Read Buy This, Not That
We all face so many important decisions in life, especially those that involve money. The problem is, we often get so overwhelmed or intimidated that we feel paralyzed and don't take any action at all. Or, we make suboptimal decisions that wind up costing us so much wasted time and money.
Enter Buy This, Not That – the perfect guide to help you navigate life's tough choices and make smarter, calculated, and methodical decisions.
What's also extremely helpful about this book is that you can start applying Sam's techniques and advice right away regardless of your age, amount of work experience, net worth, or financial knowledge.
Here's a small sampling of people who can benefit from reading Buy This, Not That:
Recent college graduates
Workers tired of the grind
Anyone who wants more money
Startup employees
Self-employed freelancers
Folks who want to retire early
First time homebuyers
Homeowners looking to upgrade
Couples who want to tie the knot
Those who want to start a family
Parents, grandparents
Soon to be retirees
Those looking to invest
People interested in passive income
Everyone who wants to live their best life
Also be sure to check out Sam's thoughts on why he wrote Buy This, Not That here.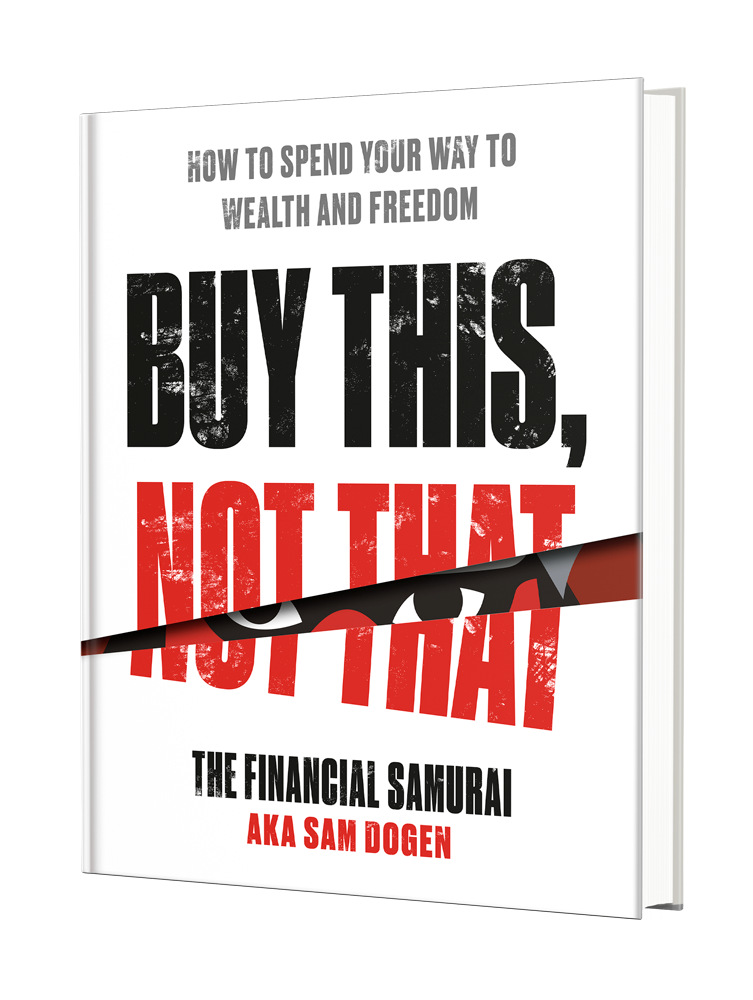 What People Are Saying
Here are just a few of the book's noteworthy testimonials:
This book has prepared me for life after basketball! A straight-forward guide to live a balanced, financially free life." – Shaun Livingston, 3X NBA champion
"A no-nonsense guide to living your best life now while also ensuring a financially independent future." – Emily Chang, anchor and executive producer of Bloomberg Technology, and bestselling author of Brotopia
"A one-of-a-kind book! Bold advice from someone who's not just done the math, he's lived it. A must read!" – Kumiko Love, founder of The Budget Mom and nationally bestselling author of My Money My Way
"Step by step, chapter by chapter, Sam shows how to make optimal money choices that focus on wealth building—not just saving for saving's sake, but for living life on your terms." – David McKnight, bestselling author of The Power of Zero and Tax-Free Income for Life
"Sam brings his expertise on making important real-life decisions to each page and backs it up with actual strategies and concrete advice. The majority of personal finance books on the market are filled with fluff and vague generalities that frankly aren't that helpful. However, Buy This, Not That is the type of book that pays for itself tenfold. It's the type of guide you should keep on hand to reference from 20s to your 80s." – Sydney Dunham, owner and lead writer for Untemplater.com and mom of 2 kids.
How To Order Your Own Copy
Buy This, Not That is scheduled to be released in print this summer on July 19, 2022. But why wait? You can pre-order you own copy now using any of the retail buttons below or call your local bookseller.
The book is generating a lot of excitement, has hit multiple bestseller lists on Amazon, Wall Street Journal, USA Today, Publisher's Weekly and more. Buy This Not That is the most comprehensive personal finance book with actionable recommendations written by a finance veteran. Pick up a copy today.