Dear Potential Partner,
The Yakezie Network is the largest personal finance and lifestyle network in the world. Only the best blogs who successfully fulfill a six month challenge have the opportunity to join. We are a diverse group of members, including: Certified Financial Planners, Doctors, Investors, Stay At Home Moms, Students, Engineers, and Private Investors. You name it, chances are we have the type of blog and audience you are looking for.
Advertising on Yakezie.com is an efficient way to reach a wide audience while saving you money in the process.
Yakezie.com By The Numbers
Alexa : 15,000
PR : 5
mozRank: 6.28
Page Authority: 65
Number of Members in the network : 100
Yakezie.com Monthly Pageviews: 100,000+
Total Monthly Network Reach: ~3,000,000+
Advertising Opportunities
We have several types of advertising opportunities to work with your needs. We believe in quality over quantity. Here are some sample placements of banner ads. If you have a different proposal, please contact theyakezie at gmail dot com.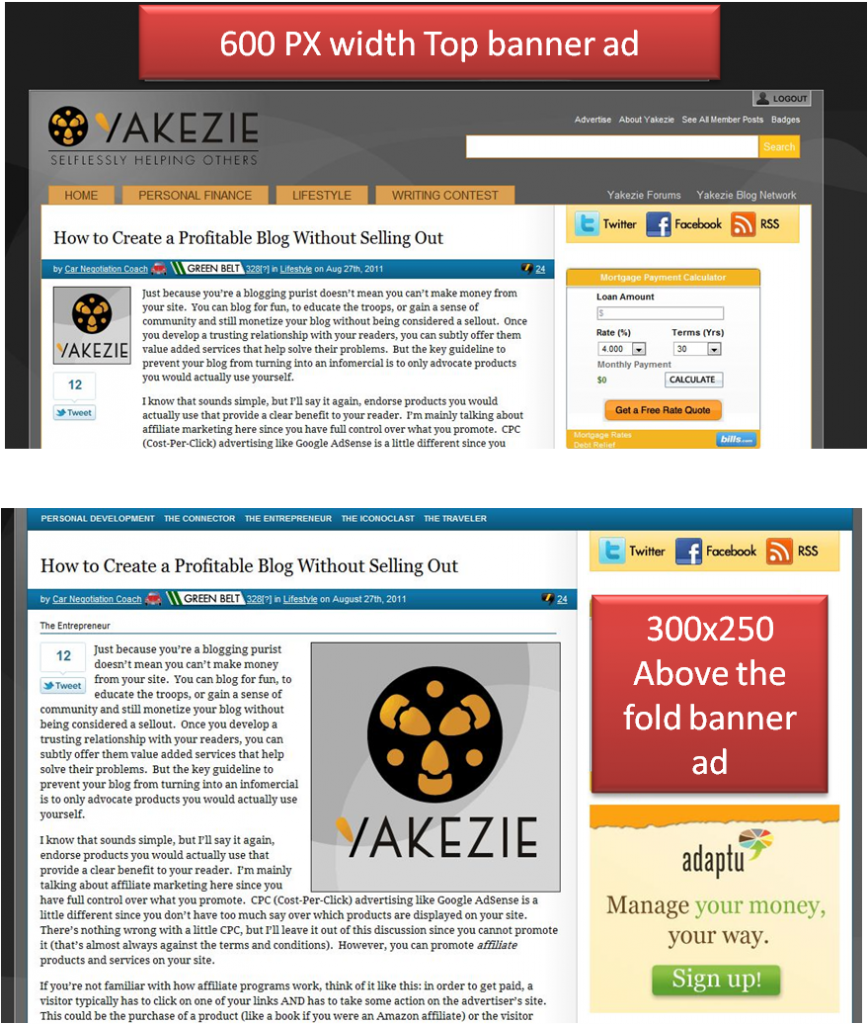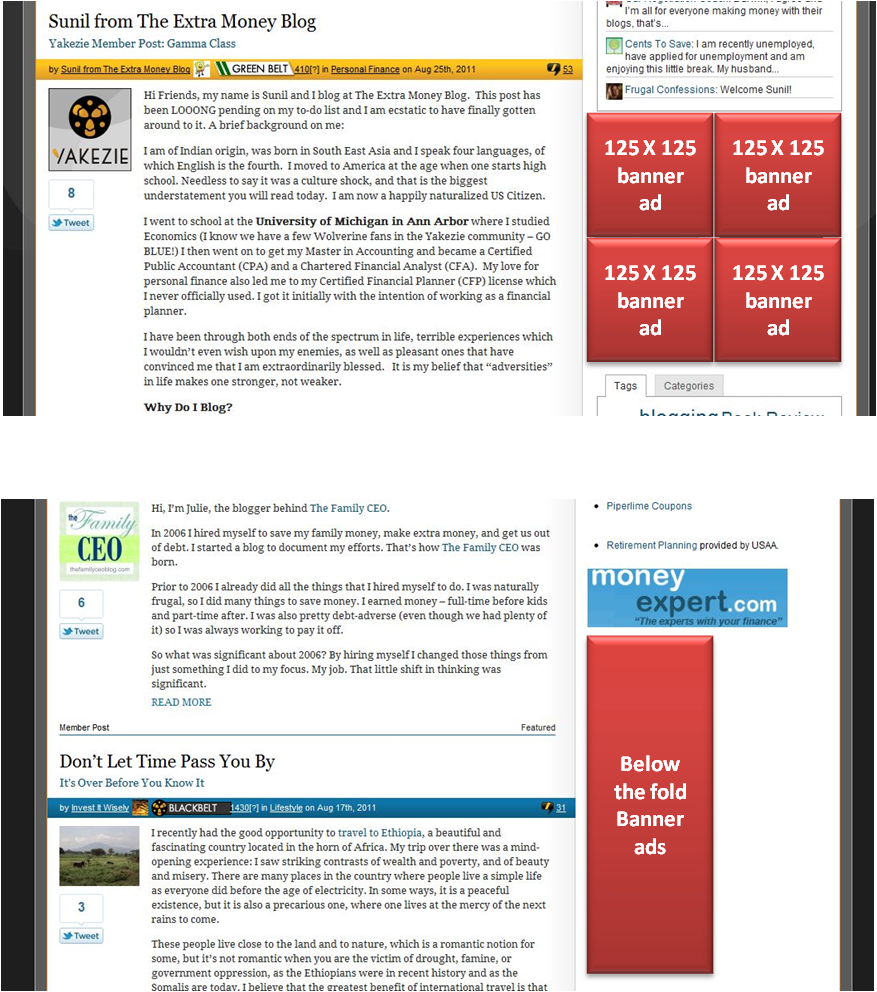 Advertisement Campaign
At Yakezie.com, we are able to tailor an ad campaign across 50 blogs or more if you tell us what exactly you are looking for. We are efficient, responsive, and professional. We welcome high quality ads that relate to the personal finance, and lifestyle enrichment space. Our goal is to make your job easier and expand your presence on the web. Read The Yakezie Network Is Open For Business if you want to learn more.
Why advertising with the Yakezie is beneficial:
One stop shop with the web's largest and most sophisticated personal finance network. We are highly coordinated and will save you time and ultimately money.
Our sites have Alexa Rankings of under 200,000, Page Ranks between 3 and 6, and mozRanks between 4.5-6.
All Yakezie Member sites have all gone through at least a 6-month Challenge to get into the network.  As a result, all Member sites that participate in the campaign are of the highest quality on the web.
We will arrange the entire campaign and make sure that all Members comply with the requirements of the campaign.
Once you develop a relationship with us by completing a successful campaign, you will have access to further opportunities in the future. You will be on our preferred client list.
We have successfully worked with some of the world's largest online advertisement and SEO companies.
We have successfully conducted over 100 ad campaigns across the Network and regularly deal with clients with budgets of $10-$40,000.
Finally, we have a strong sense of giving back to the community via our Yakezie Writing Contest vertical. We plan to use a portion of our proceeds to provide a scholarship every month to underpriviledged youth. You will be a part of this proud initiative.
Consider us as your one stop shop for all your advertisement needs. We will save you time, money, and fulfill your advertisement needs! Please fill out the form if interested in partnering with the Yakezie Network.
The Yakezie Writing Contest (YWC) vertical is looking for corporate partners to help support our efforts in empowering our youth by furthering their education. The YWC received over 1,000 essay submissions in our second round, and we plan to host four Writing Contests a year. Your company will receive immense exposure while supporting a noble cause. If your company believes in education and helping our youth succeed, you are our perfect partner.
Please contact theyakezie at gmail dot com for advertising and partnership opportunities.
Regards,
Sam
Founder of the Yakezie Network