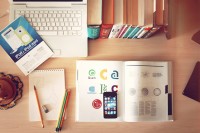 Providing your child with some sort of assistance is one way towards helping them build a brighter future. To be saddled with debt upon graduation severely restricts a student's options and risk taking abilities. What a shame it would be to never pursue one's dreams.
When I was in high school I had a choice between a couple expensive private universities or a couple of dirt cheap public universities. My parents were squarely in the middle class and my older sister already decided to go to not one but a second expensive private university for graduate school. I distinctly remember sitting around the kitchen table hearing my parents say, "We make enough to afford tuition, but we make a little too much to receive any type of need based assistance."
I already knew we weren't rich because we lived in a modest town house and drove a seven year old Toyota Camry. But to hear these words over breakfast one morning cemented my decision to go to a public university where tuition was under $3,600 a year vs. $24,000 a year for private university back in 1995.
THE THOUGHT PROCESS BEHIND PUBLIC SCHOOL OVER PRIVATE SCHOOL Read More