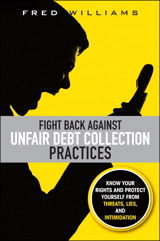 Fred Williams is a business journalist who has written about debt collection for Kiplinger's and The Buffalo News.  In 2008, he went undercover as a debt collector for 11 weeks at a collection agency near Buffalo.  In Fight Back Against Unfair Debt Collection Practices, Williams details his experiences and describes what really goes on inside a typical collection agency.
What he found was pretty shocking.   Lies, threats, and intimidation were considered standard practice for collectors trying to scare debtors into coughing up payment.  And since these blatantly illegal methods were particularly effective, the agencies did little to rein their collectors in.
In fact quite the opposite was true.  In his time as a collector, Williams learned that his employer had set up a system that allowed them to flaunt the law while maintaining plausible deniability.   Individual collectors were tipped off whenever the compliance department was listening in to ensure they were following the law.  On those calls collectors were polite and professional, but on all other calls it was anything goes.
This gave the company a great alibi in case anyone complained about their methods.   If the authorities came knocking they could simply produce a stockpile of recorded calls in which collectors carefully followed the law and claim that the individual incident was an aberration.
Inside the Mind of a Debt Collector
But this book isn't just about slamming the debt collection industry.   While the author started his project firmly on the side of the consumer, it wasn't long before he began to side another side to the story.  Many of the debtors Williams dealt with were little more than scofflaws who simply didn't want to pay their bills.  After being lied to and scammed again and again he started to understand why collectors act the way they do…they've grown to expect the worst in people.   I found this aspect of the book particularly fascinating as the author begins to drift more and more towards the collector's point of view.
Mandatory Reading
In addition to describing the author's short career as a debt collector, there is also a shorter portion that offers practical advice on how to deal with calls from debt collectors.    This section should be considered mandatory reading for all consumers no matter what shape their credit is in.  Even if your credit is perfect, you may find yourself being accused of owing a debt that doesn't even belong to you.   Unfortunately, it happens all the time (it happened to me!) and if it does you'll find the collectors are not very quick to believe that they have the wrong person.
But with this book on your shelf you can rest easy knowing you can protect yourself from unfair debt collection practices.
Win a Free Copy!
Enter our giveaway to win one of several copies…
*Sign up for my RSS Feed at Saving Money Today – 2 points
* Follow me on Twitter at Saving Money Today and Tweet this post – 1 point
* Comment: What are your thoughts on Debt Collection practices?  Shouldn't they all be fair, since it's the creditor who is being unfair by not paying? – 1 point

The giveaway will end on October 17, so make sure you enter now before you forget.  And make sure you leave a comment below letting us know what you've done.
Join us for further discussion in the Yakezie Forums.