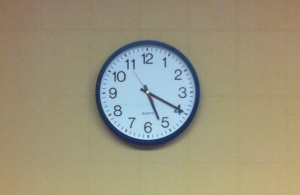 I'm still a relatively new blogger. As I mentioned in my Member post I started running Untemplater earlier this year and am still adapting as I go. One thing that's constantly on my mind lately is how I can be a better and more efficient blogger. Even though I haven't been blogging for a full year yet, I already can tell that I am a blogging addict after reading Sam's brilliant "You Might Be A Blogging Addict If…" post, which left my stomach sore from laughing so hard.
Right now I blog part time and my life has never felt SO full and in motion. It's often quite challenging to physically keep up with my constantly racing mind. Man do I wish I could function on just 4 hours of sleep, don't you?!
Before I turn 40 or maybe even 35, I want to start blogging full-time, but before I take that leap, I need to hone my skills and master as much as I can because I am not doing a very good job with my blogging efficiency.  We've all experienced burn out at least once and it's not fun.
A lot of you reading this have probably already passed your 2nd, 3rd, maybe even 5th blogoversaries so I look forward to hearing some of your expertise and insight on how your productivity has changed over the years.
Here's my take on the ideal amount to spend blogging each week across 6 main tasks, along with my current hours.
Writing Content

My Current Hours Per Week: 4-5 hours for 1 post
Ideal Hours Per Week: 5-6 hours for 3 posts
My favorite part of blogging is writing articles, which is also why I get so frustrated that I'm so darn slow at it. My perfectionist habits are hard to break, and when I first started out I'd completely lose track of time and easily spent 10-15 hours writing and tweaking each post trying to make it perfect, and without great reader results.
Lately I spend about 4-5 hours to write 1 post over two or three days and although that's way better than double digits, I'm still really frustrated at that pace.  Granted I do believe it's better to publish fewer yet higher quality posts vs. pumping out lots of low quality ones.
I mostly write in the evenings after I get home from work and it's tough to focus sometimes. My mind either wanders off or I just can't organize my thoughts well.  I've learned to just stop and go do something else when I can't spit out what I want to say.
I think the ideal amount of time to spend on a post from start to finish is about 2 hours. The first 1-1.5 hours can be spent typing out the content, and the remainder for editing and formatting. Some people claim they only spend 20 minutes writing a post, but I have serious doubts about quality with such little time, unless they're talking about only 200-300 word articles. I usually aim for 600-900 words.
Advertising
Current Hours Per Week: 1 hour
Ideal Hours Per Week: 2-3 hours
So far I haven't spent much time handling and setting up advertising but I hope this will increase over time as my site grows. I didn't start blogging just to make money though, so I'm not that concerned about earnings right now. I think blogging solely for the purpose of making money can lead to greediness, bitterness, and a lot of stress when things dry up or when opportunities are given to "competing" sites.  And I definitely don't want that.
If I do start blogging full time in 5-10 years I plan on having at least one side job, probably 2, because I strongly believe in diversifying income streams. I wouldn't want the pressure of all my income to be from blogging alone.
Networking
Current Hours Per Week: 2 hours
Ideal Hours Per Week: 4 hours
I want to spend more time networking, and I should start to have the time as I get more efficient in writing content. Right now I spend roughly two hours a week reading and commenting on other blogs and it never feels like enough. There's SO much awesome content out there and it's really rewarding and fun building relationships and getting to know other bloggers and readers.
There are so many fabulous bloggers out there and I love interacting with fellow Members and Challengers in the Yakezie forums. YakChat has also been super fun on Twitter and I encourage all of you who haven't tried it yet to join in!
SEO & Stats
Current Hours Per Week: 0.25 hours
Ideal Hours Per Week: 1-1.5 hours
I am an SEO dunce and really should be spending a few hours each week learning more about how it all works. Right now I use SEO Smart Links and WordPress SEO by Yoast's plugins and that's about it. I haven't been obsessed with rankings and stats much at all, but I probably should check more often than I have and actually use the data. The only stat I actively monitor is Alexa and that's because it's easy to see in the toolbar.
Part of the reason I don't want to get too hung up on checking stats though is it can be discouraging, especially when comparing your own rankings to other sites. I'm convinced there's no faster way to turn blogging from relaxing fun into stressful work than concentrating too much on stats and money!
Social Media
Current Hours Per Week: 0.5 hours
Ideal Hours Per Week: 2-2.5 hours
Currently I'm not spending much time using social media platforms like Twitter and FB mostly because I'm at work during the day with restricted web access and crappy cell reception, and I use most of my time in the evening to unwind over dinner, write content, comment on a few blogs, and get caught up on emails.  Social Media is always the first thing to get bumped off my to do list when I'm short on time.
Twenty minutes a day can go a long way promoting/marketing though and seeing what other people are up to so I need to get better at this. Plus it's a lot of fun. If I had full access during the weekday I could totally see myself getting addicted.
Bookkeeping
Current Hours Per Month: 3-3.5 hours
Ideal Hours Per Month: 2 hours
Right now I spend about 3-3.5 hours a month doing all my accounting, payments, and bookkeeping. I do as much of it as I can in one sitting so I can download all my statements and receipts in one go. It's not that painful it just takes time, so I usually try to multitask by watching a fun TV show or listening to some fun music.
Some bloggers outsource this kind of stuff, but it doesn't seem worth the cost to me unless you're running your own business with multiple employees, or making bank.
STARTING A MONEY MAKING BLOG
I never thought I'd be able to quit my job in 2012 just three years after starting Financial Samurai. But by starting one financial crisis day in 2009, Financial Samurai actually makes more than my entire passive income total that took 15 years to build. If you enjoy writing, creating, connecting with people online, and enjoying more freedom, learn how you can set up a WordPress blog in 15 minutes like this one. 
Leverage the 3+ billion internet users and build your brand online. There are professional bloggers now who make way more than bankers, doctors, lawyers, and entrepreneurs while having much more fun, much more freedom, and doing less work. Get started. You never know where the journey will take you!
Updated for 2017 and beyond.