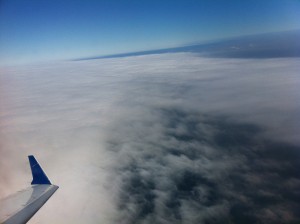 I don't know what it is inside of me, but it's been there since college.  It's a tugging force that has always had me interested in working for myself someday and being the "boss."  It all started during college when I ran a small furniture moving company with a good friend of mine.
We did it all.  Everything from advertising to the actual labor and renting U-HAUL trucks, we were out on a mission to please our clients.  We would plaster Craigslist with our ads and were hungry to make more and more money.  At the end of the day, our goal was to pay for college.  Unlike most students, I was on my own and all my tuition was up to me.
Working at a restaurant or grocery store was never going to cut it when tuition was fast approaching $8,000 per year.  I had to "go at it alone" and blaze my own trail!  Well, guess what, it worked.  I made so much money that not only did I graduate college debt free, but I was able to buy a car that I had always wanted.
That fire and drive has never left me.  I guess it's considered the entrepreneur trait.  Ever since the furniture moving company, I have always sought out ways I could be the boss.  Although day jobs are great, they have never fully satisfied my need to be at the top of the ladder NOW.
The World Has Evolved
I think that part of this drive is due to the fact that the world has changed when it comes to career dynamics.  Long gone are the days where you graduated college, got the corporate job, and retired 40 years later.  With the most recent economic depression and things not looking up, Americans (including myself) are no longer solely relying on a single source of income.  With the time it takes to nurture a career for an employer, it's no wonder people around the globe are turning into "mini-entrepreneurs."
Complete Ownership Changes Everything
Another aspect of starting a side business is that you have complete ownership over its success.  When you work for someone, you are typically part of a group of people, so the fire to destroy your competition or be better than everyone else simply isn't there.  I know there are many cases where the opposite is true, but for the most part, Americans are happy with satisfactory career paths where things plateau.
Part of the American Spirit
The United States is unlike any country in the world in that there are limitless opportunities to showcase your best ideas and get paid for it.  I strongly believe that this type of entrepreneurial spirit inside of me comes from the principles of this great country.  If you look at the history of this great country, the great things in this world didn't get done by people sitting around.  They were achieved by "doers" and big picture entrepreneurs that wanted to change their country for the better.
Doing What No One Else is doing
I'll be honest, there is a certain allure to doing something that no one else is doing.  You would not believe the faces I get when I tell them that I blog and get paid for it.  Doing something outside of your day job still seems to be unheard of.  I've never been one to simply "follow the herd" and will never be.  I enjoy doing things that no one else is doing.  This is probably why I would never make it in the military.  I'm not sure I could handle being told to wear the same exact clothes as everyone else!
I'm Just Getting Started
This blog is just one extension of my self-motivated aspirations.  Just recently, I acquired a big name Christian finance blog and will be looking forward to purchasing additional websites in the near future.  I'm trying to think like a millionaire in 2014!  Along similar lines, I can see myself getting into real estate and buying up properties along the west coast.  Am I an entrepreneur?  Yes, and proud of it!
Link Location: In content of page, last paragraph
Here's to pouring gasoline on the entrepreneurial fire! 
Photo: On The Way, SD.