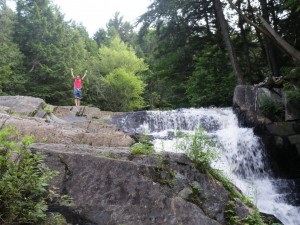 There have been very few moments that compare to the time I received the email from Sam confirming my acceptance into Yakezie. I am grateful to Sam to allow me to join with Delta class – many of whom have been my friends from the beginning. It just seems right.
My Introduction to Yakezie
It was this past summer after I stumbled upon one of Derek's posts at Life and My Finances that I realized that I too could be a financial blogger. I had been reading about finances a lot for nearly a year and I started to share this information with my friends. After being inspired by Derek and coming back to his site frequently, I finally noticed the Yakezie badge. I clicked through and started searching the forums. To make a long story short, I realized that I needed to join Yakezie – and join I did!
About 20's Finances
I started 20's Finances when I realized that it was hard for people in their 20's to find credible information without worrying about the next scam. Believe it or not, I was inspired to finally do it after a conversation in the middle of the desert in Utah, miles from any civilization or internet connection. I was backpacking with good friends of mine from college and the conversation of checking your credit report came up. I told my two good friends about how they can get their free credit report online once a year. After realizing how important it was for them to learn this information about their finances, I wanted to help others as well.
At first this site was just a site about anything and everything that I had on my mind. It wasn't directed towards people in their 20's at all. I had not yet learned of the benefits of focusing the content within a certain niche. It was after I started to narrow the focus of the content to topics that people in their 20's would actually benefit from (like dealing with college debt), that I started to see some decent search engine traffic.
How Yakezie Changed My Life
For those of you who haven't gotten a chance to get to know me well (the few of you out there), I am currently in graduate school. I am currently pursuing a master's degree in religious studies. I had planned to continue on to get my Ph.D. in the same field… until I met a community called Yakezie. That's right – I blame all of you for luring me into blogging…and I couldn't be happier.
After I joined Yakezie, I started interacting with many of the bloggers that are involved in the forums. I received much needed advice from many of you who are reading this post. I could list you, but it would take up a lot of space on this post and the list would include many of those listed on the Yakezie Blog Network. I am truly grateful for all that you have done for me.
My success was almost immediate after joining the challenge. Due to the unending support of Yakezie, my alexa rank broke 200k in 1 month exactly and 100k in under 2 months. I still can't believe it happened so fast and I couldn't be more grateful. Once my alexa got so low, I began to think bigger and bigger.
As many of you know, I started my second blog, Passive Income to Retire, as a way to track my progress towards my new goal to replace my day job income with blogging and to maintain that income by only working 3 days a week. This new goal is much different than my aspirations from getting into a doctoral program and teaching at a university. So, why the big change?
To be honest, it was a combination of events. Part of it is due to the fact that I have slowly realized that the job prospects for teachers in the humanities department at universities are poor. Yet, perhaps more importantly, I fell in love with blogging. My wife calls me obsessed (rightfully so). From the beginning that I got my first comment on my Yakezie post (thanks My University Money), I couldn't get enough. That's where it all began.
Through the support of Yakezie, I was able to start 3 4 blogs that I own myself and several others that I co-own with other 'Yakezians'. I can't help but think of how the world seems full of possibilities now and it is all because of the tremendous support of Yakezie. I am excited to see where the next year brings me and whether I will be able to quit my day job by 2013 – and more than anything, I am excited to get to know all of you better (and meet those who are attending FinCon12 in person.)