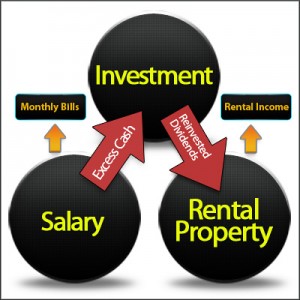 I'm Robert from My Multiple Incomes. For those of you who don't know, this is my second time around the Yakezie Challenge block.  I'm also the guy behind The College Investor, a blog dedicated to personal finance for young adults and college students.  I started My Multiple Incomes in 2011 after blogging for over 2 years at The College Investor.  At first, I was leery about starting a second blog due to the time and effort involved, and continued to ask myself – what if I just posted everything at The College Investor?
In the end, I decided to keep The College Investor focused on it's mission of delivering great personal finance topics geared towards young adults, and start My Multiple Incomes to discuss the multiple income theory I had been developing.
Multiple Incomes as Theory
After writing a ton of personal finance advice, I was struck by something.  I'd written about diversification dozens of time, but it was always about diversification of investments.  I thought to myself – diversification is important, but it should also apply to individual cash flow as well as investments.  I realized that most Americans really only had one or maybe two sources of income, and if they lost one, they were going to be in trouble.
So, I personally wanted to start a mission to diversify my own cash flow.  To do this,  I would need to develop multiple streams of income to supplement my salary and my wife's salary.  And I decided to start a blog to document my journey.  That is how My Multiple Incomes came to be – a blog to discuss multiple income streams!
What You'll Find at My Multiple Incomes
At My Multiple Incomes, I try to highlight how I'm diversifying my income stream.  Beyond my salary, I highlight how I've started monetizing my web properties, how I've created a monthly dividend income stream, and I'm looking to add rental property income to the mix soon.   As you can tell, these are different from The College Investor, and so I thought it was best to put them on their own site.
All of my posts are targeted towards these buckets:
Getting a great job and salary
Starting a side income (either online or offline)
Generating an investment income
Coming Soon – Getting a rental property for income
With each post, I try to be as transparent as possible while maintaining semi-anonymity.  For example, I will share all my side incomes, since many individuals have or are trying to have very close comparisons.  However, I avoid sharing my exact salary for privacy.
Every month, I recap my multiple income stream earnings through my Income Stream Reports, which have become extremely popular topics.
I don't want to ever fall into the "make money online" niche, but I do want to show that everyone can create multiple income streams to diversify their cash flow, and set themselves up for financial success in the future.
Definitely consider building affiliate income with great companies like Personal Capital. They have a fantastic free app to help everyone build financial freedom. You should also check out the average net worth by age for people to see how you do.
Updated for 2015