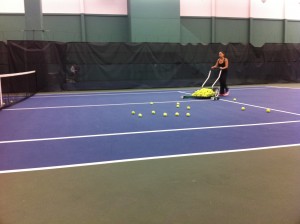 During high school, I didn't want to play #1 singles partly because I feared getting pounded every match.  All the #1 singles players were ridiculously talented and all went on to play for the best schools in the country.  Instead, I played #2 or #3 singles and amassed a 11-1 record my senior year vs. likely a 3-8 record if I was in the top spot.  The winning record was nice, but I felt a little guilty.
We strategically stacked the line-up so that it was better for the team – we had to win 5 matches out of 9 (a total of 6 singles and 3 doubles matches played).  The line-ups always changed based on our opponents.  It was also a toss-up between myself and a talented younger player.  In the end, as Team Captain my Junior and Senior years, I decided it was better for the younger player and the future of the team to get him some experience against the best opponents.  I also knew didn't want to get embarrassed my senior year.
I turned down a couple division III school offers to play tennis and attended a division I school with better academics.  I was not good enough to play for my college team, nor did I have the passion to play anymore.  If I trained really hard my senior year and the summer before college, maybe I would have snuck on as a benchwarmer.  There was no money involved as even a third of the starters had no scholarship help except for maybe free books.  I was completely burnt out after high school, so I quit tennis to live every young man's fantasy of having a great time in college.
THE REALIZATION
I don't know when it happened, but at some point between junior and senior year of high school, I realized that I would never be good enough to play Division I tennis.  There were guys much bigger and stronger who could rally all day long and never miss a shot.  Perhaps my spirits faded when I lost in the second round of the All-District Tournament, I'm not sure.
I had to make a decision between playing tennis and lesser academics, or not playing tennis and greater academics.  The answer was obvious to me.  99% of the best Division I college tennis players don't go pro.  And even if they did turn pro, if they don't crack the top 100 in the world, they barely making $100,000 after expenses to survive.  Only the Top 50 players in the world make a decent living.  It's an absolute grind.
I know one college tennis player who just made the Top 100 and retired at 27.  Despite winning the NCAA championships his senior year at Stanford in 2000, going pro was unbearable  since he was constantly getting beat in the first round of the qualifiers after flying 10 hours and spending thousands of dollars to get there e.g. the French Open in Paris.  He even beat Kafelnikov and Todd Martin in their primes and my friend still couldn't make it!
IS IT SAD?  OR IS IT JUST THE WAY IT IS?
We all have big dreams growing up.  Some want to be astronauts, while others want to be ballerinas.  I wanted to be a professional tennis player or a "wealthy businessman" since I hated the idea of having to work at McDonald's my entire life.  We recognize at some point that our dreams will never be achieved because it takes a ton of work, skill, and luck to get there.  Have you seen the credentials of those who get sent to the moon?  Do you know how hard it is to get into Juilliard School in New York?
Even if you have the most amazing credentials, you likely still won't be chosen to fly to the moon or be a successful professional dancer on the biggest stage!. The odds are always stacked against us at the highest levels.
We either have to pull the plug on our dreams early, or quit after all the effort in the world.  If we do the latter, at least we can say we gave it our best and will never wonder what could have been.  Sometimes I wonder if I had put in two more hours of practice everyday in high school, if I could have played Division I tennis and ultimately gone pro.  I also wonder what would become of me if I spent all that time to never make it and just teach tennis for a living after graduation.
I know with 1000% certainty I will never be able to compete professionally anymore as an old man now.  However, I do still have my mind and plan to dream big and execute my goals with purpose!  The goal of being a "wealthy businessman" is still a possibility.  I might as well go after it until my mind goes blank.
Readers, when did you realize that your dreams would never come true?  How did you deal with the realization, and what did you do to change?
If you are living your childhood dreams, how does it feel?
Anybody else play competitive sports growing up or now, that knows the agony of defeat, and pure bliss of winning as a team?
Further Reading:
Finding The Motivation To Kick Your Opponent's Ass!  Our misfit, underdog team won the San Francisco City Championships recently.  It was one of the best feelings ever!  Rejection makes victory all the sweeter.
RECOMMENDATION FOR BUILDING WEALTH
Manage Your Finances In One Place: The best way to become financially independent and protect yourself is to get a handle on your finances by signing up with Personal Capital. They are a free online platform which aggregates all your financial accounts in one place so you can see where you can optimize. Before Personal Capital, I had to log into eight different systems to track 25+ difference accounts (brokerage, multiple banks, 401K, etc) to manage my finances. Now, I can just log into Personal Capital to see how my stock accounts are doing and how my net worth is progressing. I can also see how much I'm spending every month.
The best tool is their Portfolio Fee Analyzer which runs your investment portfolio through its software to see what you are paying. I found out I was paying $1,700 a year in portfolio fees I had no idea I was paying! There is no better financial tool online that has helped me more to achieve financial freedom.
It's 2015 and the bull market continues. Make a decision to be wealthy by taking control of your finances!