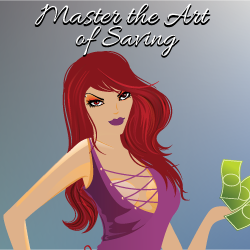 When I first got the email that I had been accepted as a member into the Yakezie network, I was tickled purple. I had been a challenger for an entire year and didn't apply the first time around, finally…my time had come.
Then after the excitement wound down, I realized that I had to come up with a member post to introduce myself and my blog (Master the Art of Saving) to the other members. I've been blogging for over two years and have yet to write a guest post, mostly out of fear. But the member post isn't exactly a guest post, I just have to write about myself. Strike two, I suck at talking (writing) about myself, I'm more of a listener.
So I stressed and got all anxious about it for the next two weeks and couldn't think of anything exciting or even remotely interesting to say. Then, the whole buying a house thing happened and my entire world turned upside down and everything was put on the back burner, not just blogging.
Now that things have "relatively" calmed down a bit, still not enough to go back to my regular blogging schedule (that will probably be another week), I was able to find the time to write my post. I didn't come up with anything exciting or interesting, all I have is honesty and uncertainty to offer.
The Blogger
Who is Jen? I really don't know, I change every day and so do my likes and dislikes. The constants are few and far between because I'm always learning new things, discovering this and that and apparently don't deal well with change. I'm a 30 year old chick, a wife, a mom (thankfully to only 1 kiddo, I couldn't handle anymore), dog owner, blogger and I manage every aspect of our household and finances aside from working and fixing stuff.
I'm painfully shy with strangers, but completely the opposite with the people I know. I'm silly, weird, dorky and sometimes a little crazy too. That could be because I'm stuck in the house all the time, but thankfully I haven't developed agoraphobia…yet. ;-)
I've always wanted to travel, especially to Europe, but haven't ever even left the U.S. I love to paint (on canvas not walls) even though it looks like a kindergartner's finger painting. Movie-wise, I like zombies, vampires, action, drama and sometimes comedy…though I rarely enjoy chick flicks. I love to read, listen to music, exercise and daydream.
I'm great at starting things, but rarely ever finish them or stick with them for very long. Thankfully, I have been able to stick with blogging and haven't given up on that yet. Of course there are still a ton of things I need to learn and implement, but all in good time. I'm a lousy writer (due to lack of knowledge), but have always wanted to be an author since I was little.
The Blog
Ah yes, on to the blog. Master the Art of Saving was created in August of 2010 in an effort to help other people find ways to earn and save money that didn't have much. A few years ago, I was finally ready to mend our finances, but all I found was the generic advice: save 10% of your income, spend less than you make or save $50 a month.
Nothing works for everybody, and we couldn't afford to save much…there had to be others out there facing the same dilemma. So I started small and gradually worked my way up to saving more and spending less, earning money online and other tactics, which I share in hopes that they will help somebody at least get started.
Master the Art of Saving is always a work in progress just like our finances, I'm still not an expert but I'm learning with each transaction, bill, post and article read and the comments all over the Internet. It takes time and hard work to improve most financial situations, but in the end it all adds up.