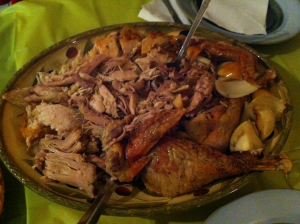 Aaah, Thanksgiving is in the air! This is such a happy and exciting time of year. Black Friday's coming, the snow has started to fall in the mountains, ski lifts are opening, persimmons are all over the farmers markets (YUM), and people are headed home to spend time with their extended families.
It's also the time for open enrollment, planning ahead, and also for giving back. Even though I have a lot I want to accomplish in the next month and a half, I am already getting giddy that a new year is right around the corner.
Thanksgiving The Easy Way Or The Hard Way
My work schedule has been rather rough lately, but I'm hoping things will be light this week with most people out. I have to work every day this week except for Thursday so I won't be spending time with my parents. I got invited to a friend's house for Thanksgiving, so all I need to do is bring some drinks and a pie, which I'll buy at the store, and show up on time. Easy! I typically don't spend the holidays with my parents as they are back East and I visit them off-peak when things are less expensive and it's easier for me to take time off from work.
I remember one year when I hosted Thanksgiving and I literally prepped and cooked for hours. It's hard work being a hostess! Props to all of you who are having people over this year and preparing a full meal. If I ever host again, I think I'm going to go the easy way and order a most of the food and do the rest semi-homemade. I'm slow at a lot of things, especially cooking, and I'd rather spend more time with my friends and loved ones that running around like a crazy woman in the kitchen. :)
Giving Thanks For What We Have Every Day We Can
There are a lot of things I'm thankful for this year, including surviving my health scare, traveling a ton (up and down both coasts, and to Belgium), feeling happier than ever and realizing our 30's are better than 20's, and being a part of the Yakezie Network. I try to remind myself constantly to be thankful for all the things in my life, especially health, because we never know what tomorrow will bring. When I was really sick at the end of the summer, all I wanted in the world was to be healthy again. It is so scary how vulnerable it feels when your body starts to give out on you, and thankfully I have made a full recovery!
We have so much opportunity each day to bring happiness to others, ourselves, and do things that are meaningful to us. Let's all give thanks today and every moment we can for all the joy and blessings we have in our lives!
Yakezie Network Reading Highlights
Here are some recent reading highlights from Yakezie Members
How To Have THE TALK With Your Kids by Dr. Dean; If there's a soon to be or working teenager in your family, check out Dr. Dean's advice on getting their attention.
3 Ways To Protect Yourself From Financial Risk by Barbara Friedberg Personal Finance; Are you prepared for the risks in your life or do they keep you up at night?
Living On An Intentional Community by Frugal Zeitgeist; Fascinating look into Forest's recent volunteering experience. Would you be happy living in a community like this?
Why You Should Earn A Degree That Actually Pays by The Financial Blogger; If you're thinking about going back to school, your degree better be worth all that money you're going to spend.
I Had Multiple Careers And You Should Too by Krantcents; Who says we only have to do one thing in our careers?! Change can be a good thing, especially if you've lost your motivation.
Happy Thanksgiving Everyone!
I hope each of you have a very Happy Thanksgiving! Are you traveling or doing anything special this year? What are a few things you're thankful for?