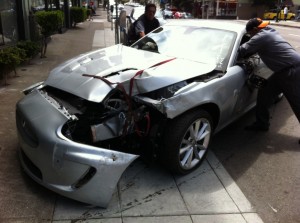 In order to understand the minimum amount of car insurance one can have in order to be legally covered, it's important to also understand what car insurance is, what it covers, and what role your state-of-residence plays in the big picture.
One of the most important aspects of being a responsible driver is owning a car insurance policy; it is required in all fifty states within the United States of America and serves to protect its citizens. Of course, as with insurance of any kind, it is no simple matter and the kind of coverage you can obtain varies from insurance company to insurance company, state to state.
UNDERSTANDING THE BASICS OF CAR INSURANCE
Here are two understandings of the basic car insurance type:
* Liability Insurance (aka Third Party Insurance)
What you have here is the most basic form of car insurance, required by most states in America, to legally operate a motor vehicle on public roads. When you get into an accident with another vehicle, while covered by this form of insurance, you are not personally responsible for any damage dealt to the other vehicle; this damage is covered by your insurance company. However, any damage dealt to your own vehicle will not be covered by the insurance; you are personally responsible for this damage.
* Collision Insurance
On the opposite side, there's collision insurance, which typically isn't required unless you're leasing or financing a vehicle where the title does not yet belong to you. This insurance covers all damage to your own vehicle in the event of an accident with another vehicle, but does not cover damage dealt to the other vehicle. Therefore, this type of insurance typically serves as a basic add-on, since most car owners want their own vehicle to be covered.
Diving further into the basics, it's important to understand what the different aspects of a basic car insurance policy are.
To start, well, there really isn't a basic car insurance policy; this is due to the fact that car insurance policies are highly customizable to the needs and wants of the driver, as well as the requirements of their state. There's plenty to add-on, or to remove if not necessary, and everything should be considered.
Below are simple descriptions for the six basic coverage types affixed to typical car insurance policies:
Bodily Injury Liability: This coverage falls in line with the liability insurance mentioned previously and serves to handle any injuries your accident caused others. All states require some amount of coverage for this item, though they don't all require a substantial amount (see State Minimum Table below); the Insurance Information Institute recommends 100/300 as proper Bodily Injury Insurance (the 100/300 figure denotes $100,000 in protection per person and $300,000 per accident).
Collision: As explained above, this type of coverage keeps your vehicle completely insured against all damage dealt to it from an accident with another vehicle. Under most circumstances, this form of insurance is not required and if you happen to be driving an older vehicle, that has a low replacement value, it isn't even recommended. However, if you have a brand new car, or are leasing a car, this insurance is necessary and will typically be required by whomever currently owns the title.
Comprehensive Collision: Serving its name, comprehensive collision insurance is more comprehensive in what it covers (i.e. fire, flood, hail, etc.). As with the basic collision insurance, this form of insurance can be left out of your policy if you're driving an older vehicle with low replacement value. Otherwise, you need it and it will be required for leasing a vehicle. When covered by comprehensive collision, you will receive the full Kelley Blue Book value for your car should an accident occur.
Medical Payment/Personal Injury Protection: Should an accident result in injuries to you, or to others in your vehicle, all will be financially protected with this add-on; most states require its presence in any car insurance policy. Typically, there's a maximum set into place by the insurance company that they will pay out to cover all medical costs, lost wages due to an inability to work, and also funeral costs where necessary.
Property Damage Liability: Also required by all states is Property Damage Liability insurance, which covers any and all damage dealt to any third party property (i.e. vehicles, fences, houses, etc.) during an accident. All car insurance policies use this particular insurance component as the basic building block of any policy.
Uninsured/Underinsured Motorist: Unfortunately, not everyone abides by the basic laws for operating a motor vehicle and won't have their own car insured. In this case, your liability-only insurance would cover their damage, but their lack-of-insurance wouldn't cover you at all. This form of coverage is not typically required, however, it's a good idea to look into your state's percentage of uninsured drivers. If this number is high in your state, this could be an option well-worth the add-on cost.
STATE-BY-STATE REQUIRED MINIMUMS
One of the most important things to understand about car insurance is that the minimum you can have is set in place by the state in which you live. It varies, at times wildly, from state to state. In some states, all of the above coverage components are required, and in others, only two are required.
Here is a table to help assist you in determining what some of the minimums are in your state (keep in mind that these minimums only pertain to Bodily Injury and Property Damage liability; your state may require additional components).
In order to read the table, please review the following:
Each state in the table has a number that looks like 50/100/25 —
"50": This number pertains to the minimum amount of Bodily Injury Liability coverage required, enforced by the state, for one individual in an accident.
"100": This number pertains to the minimum amount of Bodily Injury Liability coverage required, enforced by the state, for all injuries within one accident.
"25": This number pertains to the minimum amount of Property Damage Liability coverage required, enforced by the state, for all property damage within one accident.
Auto insurance minimums
State
Minimums
Alabama
25/50/25
Alaska
50/100/25
Arizona
15/30/10
Arkansas
25/50/25
California
15/30/5
Colorado
25/50/15
Connecticut
20/40/10
Delaware
15/30/10
District of Columbia
25/50/10
Florida
10/20/10
Georgia
25/50/25
Hawaii
20/40/10
Idaho
25/50/15
Illinois
20/40/15
Indiana
25/50/10
Iowa
20/40/15
Kansas
25/50/10
Kentucky
25/50/10
Louisiana
15/30/25
Maine
50/100/25
Maryland
30/60/15
Massachusetts
20/40/5
Michigan
20/40/10
Minnesota
30/60/10
Mississippi
25/50/25
Missouri
25/50/10
Montana
25/50/10
Nebraska
25/50/25
Nevada
15/30/10
New Hampshire
25/50/25
New Jersey
15/30/5
New Mexico
25/50/10
New York
25/50/10
North Carolina
30/60/25
North Dakota
25/50/25
Ohio
12.5/25/7.5
Oklahoma
25/50/25
Oregon
25/50/20
Pennsylvania
15/30/5
Rhode Island
25/50/25
South Carolina
25/50/25
South Dakota
25/50/25
Tennessee
25/50/15
Texas
30/60/25
Utah
25/65/15
Vermont
25/50/10
Virginia
25/50/20
Washington
25/50/10
West Virginia
20/40/10
Wisconsin
25/50/10
Wyoming
25/50/20
Recommendation:
Check for lower insurance rates. Auto insurance is the second biggest expense to owning your car. Esurance is the leading online market place to help you find the most affordable and reliable auto insurance. They get you comparison quotes to make sure you're getting the best deal. You can easily purchase auto insurance straight from their website if you like what you see. It is very important that everyone gets at least basic liability car insurance. You can total your car and be fine. But if you total someone else's car and injure them, they can go after you for ALL your assets and wipe you out!
Check for a better auto insurance quote via Esurance today.
Updated: 2015