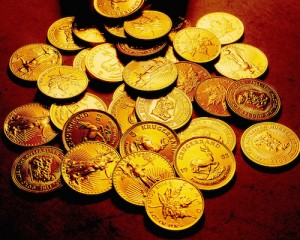 Do you know what happens when you sell an income producing asset? You end up spending so much time trying to recreate what you sold in vain. Thanks to inflation, declining interest rates, and a bull market, the asset you sold becomes tougher and tougher to replicate if you don't buy another asset immediately.
Selling an income producing website is even tougher given it often takes at least a year or two to produce any meaningful type of income. Not only do you lose your voice online, you also lose the relatively passive income and a platform that could lead to many new opportunities.
Bottom line: try not to sell your income producing assets if you want to create greater wealth in your lifetime. 
INCOME PRODUCING ASSETS INCREASE IN VALUE AS INTEREST RATES DECLINE
The below is a chart I used in another post on Financial Samurai, highlighting how an income producing asset appreciates in value with a decline in interest rates. Given interest rates have been declining for the past 10 years (30+ years actually), you can see the tremendous increase in value of a sample real estate rental and an eBook from when the 10-year yield was at 6% in 2005, to now 1.85% in 2015.

If you can make a healthy $60,000 a year from blogging like more and more people do, then the value of the blog could literally be worth $3,000,000 based on a 4% interest rate ($60,000 / 4%). If your blog is making $500,000 a year in income, then that value skyrockets to $12,500,000 in value at a 4% interest rate!
The biggest opportunity I see now is websites selling for only 1-4X annual revenue. Given operating margins are very high in the online media world (blogging in particular), we're talking 2-6X annual earnings, maximum. In other words, a blog with a $600,000 a year annual revenue stream and a $400,000 a year operating profit figure (67% operating profit margin) can be purchased for only $2,400,000 in today's market.
$2,400,000 is a lot of money, especially to folks who don't work in high-paying jobs, have never made that type of money before, or don't come from the world of finance. But paying $2,400,000 for a site with $400,000 a year in operating profits is DIRT CHEAP in any business sector, especially if you have even a remote clue of what you're doing with the business once you purchase it.
To put it another way, paying $2.4 million for $400,000 in flat operating profits is like getting a 17% annual return on your money. 17% is about 9X the current risk-free rate of return. You're making 15%+ greater than the risk-free rate, which is a tremendous compensation for a business that likely will remain steady or grow if maintained.
BUY INCOME PRODUCING ASSETS, DON'T SELL THEM
Thanks to a tremendous disconnect in the marketplace for buying income producing websites, you should be buying all day long. If you were lucky enough to buy income producing assets in the downturn (2009-2011), even better because you've not only seen appreciation due to a rise in valuations, but also a rise in income as well.
Valuations have expanded since 2009-2011 because there's a tremendous amount of liquidity chasing not enough assets. The stock market is close to a record high, and real estate in superstar cities like New York City, London, Hong Kong, Singapore, Paris, and San Francisco are way past their previous peak. The capital accounts in China and India are opening up, chasing a tremendous amount of deals here in the US. I'm in tech/internet startup HQ in San Francisco, and Chinese money is everywhere.
Just look at how the richest people in the world built their fortune (Warren Buffet, Bill Gates, Mark Zuckerberg, Carlos Slim, Li Ka-shing, Sam Zell, etc). They all got rich by buying and holding for the long term and building tremendous amounts of equity. Inflation, population growth, ever-rising demand, and globalization are friends of income-producing assets with international consumption ability. Anything online has theoretically a global demand curve!
For blogs, the longer you survive, the larger your competitive advantage. You've got that much more credibility, that many more URLs released to the web, and that many more readers to help support your community. You can even parlay your site into a high-paying job related to the online world. Just look at the astronomical valuations for web properties like Upworthy, Buzzfeed, etc. They are all trading at ~25X annual revenue, which is a 100%+ expansion in multiples since 2010!
For fun, take your annual revenue of your website and multiply it by 25X. Welcome to the craziness of the private equity market we know now. Perhaps it's time to sell? If you can get 25X revenue, probably. But I'd rather be a buyer at 1-3X annual revenue because that's what smaller sites who aren't financially savvy are willing to sell for now. If you've already sold your income producing asset in the past, I strongly encourage you to find some desperate seller who doesn't know the value of what they got, to get back in.
Interest rates have been going down for almost 35 years now, and I don't expect them to suddenly skyrocket any time soon, if ever. Perhaps we get a 1%-2% increase, but that's it. Meanwhile, the demand for content online just continues to grow. Build your brand, keep up your cadence, and grow your site for as long as you can.
Readers, why do you think people aren't willing to hold onto their income-producing assets when they just tend to get more and more valuable in a low interest rate environment? Even if interest rates rise by 2%, we are historically still in a low interest rate environment. Have you noticed people sell their sites, and then spend years trying to get back in with no avail? Why do you think people sell their sites for so cheaply?
Related: Ranking The Best Passive Income Investments Today
STARTING A MONEY MAKING BLOG
I never thought I'd be able to quit my job in 2012 just three years after starting Financial Samurai. But by starting one financial crisis day in 2009, Financial Samurai actually makes more than my entire passive income total that took 15 years to build. If you enjoy writing, creating, connecting with people online, and enjoying more freedom, learn how you can set up a WordPress blog in 15 minutes like this one.
Leverage the 3+ billion internet users and build your brand online. There are professional bloggers now who make way more than bankers, doctors, lawyers, and entrepreneurs while having much more fun, much more freedom, and doing less work. Get started. You never know where the journey will take you!
Also consider investing in the best real estate crowdfunding platforms. They are the new wave of investment opportunity for 2017 and beyond as the JOBS Act opens up real estate to more people.
Updated for 2017 and beyond.