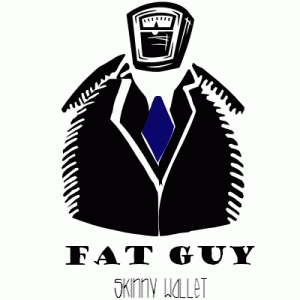 So, this is the second time that I'm writing a member post and much about me hasn't changed.
My name is Khaleef Crumbley and I was born and raised in New Jersey, where my wonderful wife and I currently reside. I have seen a lot of poverty in my life – the place where I grew up is known for its drugs, gangs, teenage pregnancy, shootouts, and stolen cars – but I have also seen people with the resilience to rise above this!
I had a poor education in public school, but I had parents who invested their time and energy in seeing me succeed. For as long as I could remember, I "helped" my mother manage the household budget, pay bills, and even clip coupons. My parents both taught me the importance of hard work and determination!
I love studying the bible and learning about God, playing with kids, making spreadsheets, and making homemade pizza! I also love to teach – ANYTHING – the bible, finance, economics, Microsoft Excel, flashing ROMs on HTC phones, or anything else that I learn. My idea of fun is simply spending time talking about the bible and God with my wife and church family, or even going for a long drive while listening to jazz!
Because I didn't take college seriously when I first went, I lost my financial aid and had to drop out because I couldn't afford tuition. I then worked at a bunch of dead-end jobs for about 6 years, until I decided to go back to school. I wanted to go back so I could stop working at these horrible jobs, and so I could go to seminary.
I earned both Bachelor's and Master's degrees from Rutgers University in Economics with specialized work in Finance, Investment Analysis, and Non-Profit accounting. It took me a total of 3 years to earn both degrees (I guess that's what happens when you're motivated)! I also studied Ancient Mediterranean Civilizations (with an emphasis on Ancient Greek culture and language), Music, and Math. My immediate educational plans include earning a second Master's Degree, this time in Accounting, and sitting for the CPA and CFP exams. Then I hope to earn a doctorate in Theology soon after that.
I currently serve as Treasurer for OASIS for Children, Inc; a non-profit orphanage located in Haiti. After several years in corporate finance and accounting, I currently work in higher education managing government, non-profit, and corporate grants.
My ultimate goal is to honor God in all that I do. The most important things to me are relationships, first to God and then my marriage, my family, friends and church. If I was forced to lose all of my possessions and money (just be sure to take my debt as well ;-) ), but still keep my relationships, I would be more than happy!
There…pretty much the same as before, right? I will add a few other notes about myself in the section about my blog.
About KNS Financial
Since I also have an offline presence with KNS Financial, I'll tell you what made me get started with it, and then move on to what you all came to see.
I hate that the majority of people in this country seem incapable of making wise financial decisions. For all of my adult life, my friends and family members have come to me for financial advice. I founded KNS Financial in order to assist people with financial matters in a more organized and systematic way.
I have always had a desire to take complex ideas and make them easy to understand and teach to people. However, my focus always lied in investing and not so much in personal finance.
So, I made a lot of bad choices and led an undisciplined life financially (which I'm still paying for), while all the time still studying investing. I was making minimum wage, and instead of trying to learn how to make more money, or at least manage what I had more efficiently, I studied the stock market!
Then I read 2 books by Larry Burkett, "Debt-Free Living" and "The Word on Finances" (more of a reference book). Both of these books opened my eyes to the fact that God actually cares about how I handle my finances. Up until that point, I just assumed that cheerful giving was enough!
From that point on I began to look for personal finance resources and discovered The Motley Fool. From there I learned a lot of practical ways to manage my finances, and realized that it was more about common sense than anything else. From that time it became my goal to teach people to do the same!
I currently prepare taxes through KNS Financial and eventually, I would like to become a Certified Public Accountant (CPA) and a Certified Financial Planner (CFP), so I can [legally] assist people with more complicated financial matters.
About Fat Guy, Skinny Wallet
As you can see, there are two separate (but related) areas of focus for my blog.
Fat Guy
I'm sure this doesn't need much of an explanation. I am a really FAT GUY!!! Over the last year or more I've been trying to lose weight, but I always let things get in my way. While it is true that with the way my life is structured, I don't have much time for anything else, it is also true that I'm not getting any younger and weight loss needs to be a priority!
I wasn't always like this. I was into sports as a kid (playing the 3 major sports and wrestling), and even through high school – where I played football and baseball. I never liked to sit in front of a TV or playing video games, and I was always outside running around with friends.
Unfortunately, when I graduated from high school, I stop playing sports, with the exception of an occasional pickup game of football. That plus late night eating once I became a musician (I was always out eating at 3 or 4 in the morning after a gig) caused me to gain weight quickly.
I decided that I wanted to make my struggles public so that people would be able to offer their suggestions, tips, encouragement, and keep me in line!
I have actually had a lot of people from my personal life follow my progress through the blog.
I issued myself a challenge at the beginning of the summer to try and lose 15lbs in one month. Some of you followed that challenge (since I posted my progress every single day), and may remember that I started off weighing 290lbs! I'm only 5'6″ on a good day, so you can only imagine what I look like.
My goal is to lose about 100lbs – between 80 and 100 depending on what my body looks like! Oh, in case you weren't following, I beat the challenge by losing 16lbs in 31 days, so now my goal is down to 84.
To me, the biggest problem in my life when it comes to weight loss is discipline. I know how to workout properly, and I know enough about nutrition to make proper decisions.
Now I just have to discipline myself to make the time and put in the effort, and then eat the right things!
Skinny Wallet
This is the second area of focus for my blog. We are in serious debt, and we are fighting to get out!
We currently have about $105,000 in debt (no, we don't own a house). This is comprised mostly of student loan debt, but it also involves a lot of credit card debt, and a couple of small personal loans.
Much of this is the result of my mismanaging my finances when I was younger and only paying attention to investing and the stock market!
Our goal is to become completely debt free, and never have to borrow money again!
Fat Guy, Skinny Wallet
There are two points of intersection in these categories. First, in 2010, we spent $3,724 eating out!! That is bad for both our wallets and our waistline. Focusing on making healthy choices with our diet, and avoiding fast food and other expensive, calorie-drenched dining, will do wonders for both categories.
Secondly, both of these goals will take an extreme amount of discipline – especially since the average American completely lacks self-control in these areas.
So, over the next few weeks, I will consider exactly how I want to structure my updates on the site – probably daily for diet and working out, and weekly or bi-weekly for debt.
Faith
As many of you know, I'm a born-again Christian, and this dominates my worldview. Ultimately, I want to honor God with the way that I manage my health, time, energy, and wealth.
Being in better physical shape and having more energy, will allow me to be able to be a better husband, and to do more things on behalf of my church. Also, by being debt free, we will be able to better support our church financially.
These are both great motivations for developing the discipline necessary to make this happen!
Yakezie
Since I was already a Yakezie member when I started Fat Guy, Skinny Wallet, I automatically knew that I wanted this blog to be a part of this group as well. So I entered the Yakezie challenge back in February.
I have grown a great deal as a writer and website owner thanks to all of your support, advice, and guidance!
If anyone has any questions or simply needs some help promoting a book, article, giveaway, or anything else, feel free to contact me!
Open Door For Stories
One other thing I want to incorporate into my site is to have people who have been successful in either endeavor tell their stories.
If you have managed to become debt free – or if you have been able to avoid debt – I would love for you to tell your story on my blog!
Also, for people who have been able to lose weigh, get into better shape, or simply develop a consistent workout plan, I would love to know about it.
This also goes for people who are able to keep their grocery costs down, and are able to eat healthy without breaking the bank.
Basically, I want to give my readers a different perspective, and also give them inspiration (myself included)!
Links:
Here are my 2 favorite articles, along with ways to connect with me on social media:
Here is one of the tricks we use to pay off debt faster
A guide for hurricane preparedness that I put together (Irene did major damage to New Jersey)
Connect with me on Social Media
Oh, and I need to thank my wife for designing the logo!!!