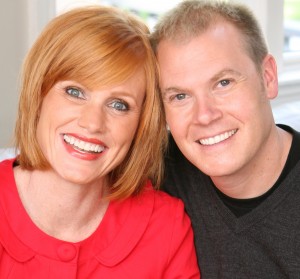 By, Barbara Friedberg editor-in-chief of BarbaraFriedbergPersonalFinance.com where she educates, inspires, & motivates for wealth in money and life. Learn personal finance from a real life portfolio manager.
I had the opportunity to chat with Bethany and Scot Palmer, authors of First Comes Love Then Comes Money; A Couple's Guide to Financial Communication, for some "pre-interview" background information. As I'm interested in others (and just plain nosey), I wanted to uncover some dirt which wasn't in their book.
Here's what I found out from the Palmer's.
On regular occasions, after meeting with couples, drawing up financial plans, and believing they were all set, many couples returned a few years later, with problems. Many of these returning clients WERE GETTING DIVORCED. This troubled and perplexed the Palmer's. They realized that their practice was a microcosm of this trend reported in the Washington Post; 70% of couples who divorce, cite money problems as the cause.
First Comes Love Then Comes Money; A Couple's Guide to Financial Communication was born. The Palmer's successfully spelled out a plan to combat couples financial trials. Read about their book in my review. As a companion to the book review, I agreed to interview the authors, with a twist.
There is a lot of interest in "book publishing" on the Yakezie forum, and so I'm taking this opportunity to ask the Palmer's a bit about their experience with the process of writing a book  after the "typical" author questions.
1. What to do if you and your partner are financially incompatible. Is there any hope?
We fight about money because we don't see money through the same lenses as our partner.  We all have 2 of the 5 money personalities.  A primary and a secondary Money Personality. We find that 65% of the couples we interview are married to their opposite Primary Money Personality.  A Saver is married to a Spender, a Security Seeker is married to a Risk Taker or a Flyer is married to a Security Seeker.
No wonder we don't want to talk to our spouse about money – we approach every decision differently.  He thinks we should go out to dinner tonight, she doesn't.  He thinks that the big screen TV won't bust the budget, she does.  No one likes to fight and money fights can be the most damaging to the relationship.
2. What is the absolute worst couple money crime you have encountered?
We had an engaged couple come into our office and he revealed a $35,000.00 credit card balance he hadn't told his future spouse about – disaster!
3. Obviously, communication is great, what if one partner will not communicate about money. What's the solution?
First, define each others' Money Personalities.  Next, OPEN the conversation with a question such as; "I found out what my Money Personality was today, I am a Saver and a Security Seeker, do you agree?"   The key here is to start with yourself.  Naturally, your partner will reveal theirs.
4. According to The Money Couple, their secondary money personalities collide.  Scott is a security seeker and Bethany is a risk taker. How have you gotten out of the inevitable conflicts or secrets?
We are both primarily spenders so we often get along just fine. When it comes to investment opportunities Bethany is ready to dive in, Scott…not so much.  We have learned to approach these subjects carefully and take each others money personalities into consideration.
5. What are your top three recommendations for a prospective author to consider when writing a book?
Have a clearly defined message, understand your platform, and solicit help through an agent
6. What are your thoughts about publishing with a traditional publisher versus self publishing? Pros and cons.
We have never self published.
7. Any tricks to getting an agent?
Have a clearly defined message and understand your platform.  In real estate it's location, location, location.  In book publishing it's platform, platform, platform.
8. You have two books, Cents and Sensibility and First Comes Love, Then Comes Money, both about couples and money. What steps did you take to get the first book published?
Wrote a 2 page proposal and submitted it to several publishers.  One of the publishers picked it up and the rest is history.
9. Many of our Yakezie members are single. Why should they take a look at First Comes Love, Then Comes Money?
It is imperative to understand what your Money Personality no matter what your marital status.  The tools outlined in First Comes Love, Then Comes Money are helpful all who look towards future relationships.
CONTEST – TWO COPIES TO WIN
Enter to win one of two copies of First Comes Love, Then Comes Money.
Subscribe to Yakezie RSS feed; 2 points
Subscribe to Barbara Friedberg Personal Finance RSS feed; 2 points
Follow Barbara Friedberg Personal Finance on twitter; 2 points
Retweet this post: 2 points.

State how you entered in the COMMENTS section.
CONTEST WILL END ON MAY 31, 2011.
What are your biggest "couple money" or "friend" money struggles?