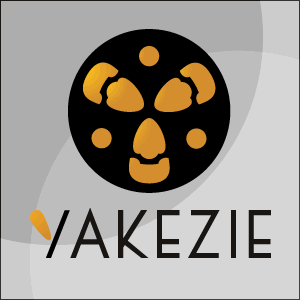 Thanks everyone for their input after Monday's launch!  We've been actively testing out various functions and squashing bugs as they come thanks to your feedback.  Per your suggestions, we are in the process of adding Commentluv (or something similar that is compatible with our custom theme).  We've added threading to comments four threads deep to engender banter.  Finally, we've also added the "Subscribe to Comments" plug-in to keep you guys in the loop while you are away.
Hopefully everybody can get a Gravatar so we can see your pretty symbol or face.  It takes less than 3 minutes to do.  Some have expressed our pictures are curiously large, but don't worry, the picture is still 1/30th the size of your own face!  Besides, you guys are much better looking than I could have ever imagined! As the saying goes, "it's always good to put a name to a face"!
YAKEZIE BADGES
A new set of badges have been created for members of The Yakezie.  Get them here.  They can be displayed on your respective sites now or after your Member Post is up.  It's been an honor for my fellow challengers, and now members to display our original Challenger Badge.  It's also quite kind of you to ask about no longer having a badge pointing towards Financial Samurai.  I've thought up a balanced approach.
All first participants of the challenge are encouraged to sport the new badge.  Just copy and paste the text into a text widget, place where desired, and voila!  But what about those original participants who are still in the challenge stage due to late arrival or other reasons, and still striving to break 200,000 you ask?  One suggestion is to reserve the Black Badges for those who've breached their Alexa goals, and reserve the White Badges for those who are still on their way.  This could make for a fun way to bring further motivation to those not quite there yet.  Essentially, all original participants have been grandfathered in as Members regardless of their Alexa ranking.
The original Yakezie Badge becomes the default first stage Challenger Badge that borrows the Mon (crest) of the Oda Clan.  In order to differentiate between new Yakezie Challengers who we wholeheartedly welcome, and existing members, we offer up the original badge for continued use.
Once a new Yakezie Challenger has successfully completed the 6 month challenge, and/or has broken their respective Alexa ranking target (200,000, 100,000, 50,000), they will be invited to write a Member Post for initiation into the Yakezie.  Existing members will then vote on the Challenger's induction, which will allow the right to display the Member Badge.
Feel free to provide your suggestions and comments on our new badge system and whether you think it's a good idea to offer a two stage program or not.  If you'd like to sport both badges,  feel free as well!
BELTS OF HONOR
To make things fun and reward participation, we have devised a Yakezie "Belts of Honor" system.  All members start off as a White Belt and through the course of comments, Member Posts, and Yakezie Scholarship contributions, members will increase the number of points associated with their names, thereby rising up the Belts of Honor system.
The Belts of Honor are tied to your Yakezie.com user account, so if you want to get credit for all of the contributions that you make to the site, register for an account here.  We are not requiring registration to use the site or even comment, but the belts and forums require user registration.  Be sure to use the email address that is tied to your Gravatar.  As an added benefit, anyone who signs up with Yakezie receives a user profile page on the site that lists their most recent RSS entries, provides a link to a user's Facebook and Twitter accounts (if they so choose) and allows users to provide a short description about themselves as you can see in my example below.
Belt Ranks

White – 0 points to start
Blue – 150 points
Green – 300 points
Red – 600 points
Black – 1200 points
Black Belt Degrees:
Yakezie members are eligible to become degree Black Belts after 1 year of membership.
1st Degree: 1400 points
2nd Degree: 1600 points
3rd Degree: 1800 points
4th Degree: 2000 points
5th Degree: 2500 points
6th Degree: 3000 points
7th Degree: 3500 points
8th Degree: 4000 points
9th Degree: 4500 points
Grand Master: 5000 points
Input Variables:
Comment = 1 point
Member Post = 25 points
Yakezie Leader Role = 25 points a month
The Belts of Honor is a really great custom system Chris created to help implement the competitive and fun mentality we all have here at The Yakezie.  Just as the Top Commenters tab proudly displays the most prolific members and readers, the Belts of Honor system rewards the overall most involved members.  We are a meritocracy like no other.  It is our hope that all Yakezie members reach the level of Black Belt and continue to strive for improvement!
Again, please feel free to provide us with suggestions and feedback on the system.
YAKEZIE FORUMS COMING UP

Over the next two months, we'll be getting to know each other through our Member Posts.  I'm so proud to see 40+ members sign up in a matter of days!  The amount of organization and enthusiasm is incredible.  What we'd like to do is to bring some "chaos" into the order of Yakezie.com through the Yakezie Forums.
The goal of the Yakezie Forums is to bring our Google Groups into the forefront.  We average 20-40 comments per day in our Google Groups and I feel we'll be able to better implement ideas and get more feedback if everything is integrated right here on Yakezie.com.  The Google Groups forum has been integral in answering many of our questions and getting immediate answers.  Hopefully we can replicate the success here.
Chris is preparing the forums as we speak.  We both thought it was very important that Yakezie.com and the member forums integrate together, so we will implement a system that allows you to log in on one end of the site, and be logged in on the other.  Chris is very confident that the forums will be up and running by the beginning of next week, most likely Monday.  When they go online, we will let you know through Twitter, on the Google group, and here on the website.
YAKEZIE LEADERS
Finally, for members who'd like to contribute even more, I'd like to re-touch upon the idea of having Yakezie Leaders now that the site is up.  The Yakezie Leader is one who is responsible for the direction of their particular vertical, category, or responsibility.
Some ideas for Yakezie Leader roles include: Public Relations, Social Media (Twitter/Facebook), Podcast/Interviewer, Yakezie Lifestyle, and Yakezie Scholarship.
Several of you have graciously raised their hands to become Yakezie Leaders in specific areas since you have professional experience in the off-line world.  I just want to formalize the process here through the comments section below and give you an out just in case you've changed your mind since the stage one recap.  If you are up for it, I will include the role you'd like to take and your name and site ad hoc in this post.
It would be great to have at least 5 Yakezie Leaders who will get a special Member Profile, and an automatic 25 points a month extra in the Belts of Honor System.  You don't have to be stressed at all about your responsibilities of being a Yakezie Leader.  The main thing is to have fun, share your ideas, offer your expertise, and show us your vision!  The suggested Yakezie Leadership role duration is 6 months.
ONWARDS AND UPWARDS!
I hope everybody is excited about the new features of Yakezie.com as I am.  Chris and I have worked countless hours trying to make everything work.  With all your help, we are achieving our goals of making the site as best an experience as possible for everyone.  Furthermore, if you see spelling or grammatical errors in any of our contributors posts, do us a favor and point them out so we can fix them.  If you have any further suggestions for improvement, please let us know.  Everybody has a say in Yakezie.com!
* Things we are working on: Getting trackbacks to work coming in here so we are notified, a tweet button which displays a proper tweet count on the home page and post page, getting Commentluv to work here as well as track Yakezie.com's latest post when commenting, and the forums.
Regards,
Sam
Follow us on Twitter @Yakezie, join us on Facebook, and subscribe to our RSS feed.