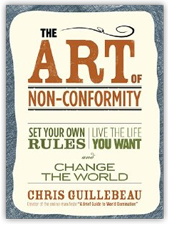 By Dr Dean Burke, The Millionaire Nurse Blog
A Book Review: The Art of Non-Conformity
The Art of Non-Conformity by Chris Guillebeau.
(Details about a signed book giveaway at the end)
Reviewing a book after it's been out a year rather than the week it debuted, now that could be nonconformity……
That's my story and I'm stickin' to it…
Actually this is the first free e-book I downloaded from my local library on the Kindle.  (Sorry Chris…)
Why I read it:
Your first question might be why a fifty something gynecologist would read the book (besides the free part).
I went to college, medical school, residency, (12 years after high school) and  then started my practice-the essence of delayed gratification.  (one sign of a conformist.)
I got married, raised two children, and am still together emotionally with my nuclear family-and have lived in one place for the last 26 years-yep a conformist….
I've only visited  7 or 8  countries in the world, and probably only 25 states in our great country.  Not exactly a homebody, but not in Chris's or Adam Baker's category.
I would say the best way to judge a book's success is to hear what  the "cynics" say, as Chris describes those who don't follow his footsteps. Call me "The Cynic!"
The bottom line:  I enjoyed the book immensely.  It may even change my life, but that remains to be seen.
As Chris stresses, it is so easy to get jacked up about an idea and then then not execute.
Sleepwalkers he calls them.
Early in the book he advises not to bother reading if:
You aren't open to new ideas-hell, I wouldn't be a Yakezie member if I was closed minded.
You are satisfied with the status quo– I'm not so sure.  I have a great life.  In my medical practice I help people  everyday.  I treat patients from all walks of life.  I don't live in Manhattan, LA, or Seattle.  I live in what some have described as a "third world country"  right here in the US of A.  The poverty level is high, unemployment is high, dropout rate is high.
You aren't ready for personal responsibility. That's a given.
You are afraid of hard work. Got that one covered.
Part One: The Art of Non-Conformity
The book unfolds with chapters on Setting the terms, Smashing through fear,  Fighting Authority and Winning (martial terms all).  For a little while I thought I was at Berkley in the 60's or on Wall Street this week protesting….whatever it is they're protesting….
In this early portion of the book, Chris pushes you to find your passion.  What's missing from your life?  What might make "work" your passion rather than drudgery?
Reclaiming Work:
The second part of the book is titled "Reclaiming Work."  This section covers how to learn to work on your own and develop your version of solo entrepreneurship.  Here he stresses the importance of your own competence.  Be great at what you want to spend the rest of your life doing.  He discusses the possibility of getting your "Graduate Education" somewhere besides grad school.
In his review of the costs of becoming an expert, he gives a practical course to follow.  His "A One Year, Self-Directed, Alternative Graduate School Experience" I found fascinating.  Don't think of it as a lazy man's way, the tips he gives require a lot of hard work and discipline.
He stresses the importance of developing a small army to help guide and support you.  He explains how to build your own customer base by making great products, writing great content, and helping others on similar journeys.
There are tips on personal finance that involve developing your own safety-net as you move away from a traditional job and it's structure.   He makes an argument for what I have come to realize myself.  Working your ass off to save money for retirement, then being too old, too sick, too burned out to enjoy that same retirement is a fool's game.
If you enjoy what you do, and it can provide for your needs, who needs to retire?
"Convergence"-last but not least.
Convergence:
How to have an abundant life without piles of material goods as proof.
How to eliminate the  unnecessary and non-productive parts of your life that interfere with your new journey.  (I'm all in on eliminating meetings!)
How important it is to learn to say no.
How to travel inexpensively (travel hacks) and how to get the most out of your time away (this was the least interesting to me personally).
How to define your "legacy".  Now, rather than at the end of your life ( As an older person I wanted to jump up and say "AMEN" here.)
Three must reads to a new you at work:
This book: The Non-Conformist Guide
4 Hour Work Week by Tim Ferris
If that's your pleasure….
Reader Questions:
What say you?  Have you read the book? What did you think? Has it changed your life?
Dr Dean Burke is the  owner/writer/chief bottle washer at "The Millionaire Nurse Blog".  "My passion is teaching the basics of personal finance, though  I reserve the right to write about whatever suits me."
You Want to Win?
To win the signed copy of The Art of Non-Conformity Chris so generously donated, let us know in the comments that you: Follow @Yakezie, follow @DrDeanBurke, and have signed up for the Yakezie feed, and my RSS feed.  (Yes that adds up to 4 chances for each  if you do 'em all!)  I'll announce the winner in a coupla weeks here.