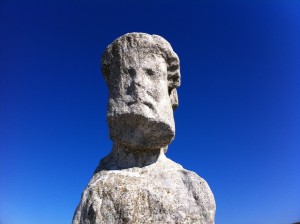 This summer, I went through the career search process for first time since my senior year of college three years ago. I knew that I'd have to send out plenty of resumes, reach out to some connections, and follow up relentlessly on opportunities that I wanted. But I also knew that I was a smart person so once I got my foot in the door, I could make an impression. I think almost all smart people can get a job, even in this market.
Of course nobody is going to come knocking down your door if you show some intelligence . But once you get to that first screening call or first online test, you have the tools to get a job.  While it may seem like employers are weeding out good candidates and only hiring overqualified individuals, the truth is that if you are smart, there's probably a place for you in the company.
A COUPLE EXAMPLES
I'll give two examples. The first came during my senior year of college. I must have gone to a career fair and handed out my application to this company, because I had no recollection of actually applying to the company. So I was pleasantly surprised to receive an email asking me if I'd like to move forward with their interview process. After asking for some basic information, they invited me to take an online test, consisting of one technical section and one reasoning section.
This test was designed to weed out the unqualified candidates. I don't know what my actual scores were but I didn't feel like the test was terribly hard. A few days later I was asked to come in for an interview, which I was late to (I was given confusing directions using public transportation) and almost fell asleep during one of my three interviews. I didn't expect to get the job but I ended up working for this company for two years. It all started because I did well on a reasoning test.
Fast forward two years to this summer, when I moved to California. After realizing that the self-employed lifestyle wasn't for me, I sent out about 30 resumes to different companies and got one email asking me to come in to take a series of tests. I expected it to be something similar to what I had done 2 years earlier. What I didn't expect was to take a marketing test, a PowerPoint test, an English test, and an IQ test. People test for IQ nowadays?
Employers sure have gotten crazy lately. I took the test, barely passed the marketing and PowerPoint tests (I got about a 50% on them, which somehow constituted passing), but aced the English and did very well on the IQ test. I probably got an IQ score above my natural capabilities, but with a short test anything can happen.
I got a call the same day asking me to come in for an interview the following day and about an hour after the interview (which made me feel unqualified for the position because of my lack of industry knowledge) I was sent an offer letter and I started the following day.
In neither of these cases was I better than other candidates. I certainly wasn't a great programmer before my first job, and I had to catch up to others and what was expected of someone in my position. In my current job, it is clear that I am not a natural salesman and that anyone can do what I do.
So why was I chosen over others? It's because I did well on my tests. In my most recent interview, it was clear that the reason I was being considered was that they were impressed with my test scores, NOT that I was a perfect fit for the position.
TIPS ON HOW TO GET AHEAD
I am not special. Here are a few ways you can prepare and whether you're brilliant or not, you can use these tips to gain an advantage in your next job opportunity:
Just like your SAT or GREs, you can study! Do a lot of reasoning problems for practice. Take out an LSAT book from your library as the types of problems on those tests involve both reasoning and analysis skills.
Highlight your outside the box thinking. If you've got a side job, list it. Employers love to see people take initiative!
The key is to get your foot in the door and make an impression. Don't just send a resume. Follow up and if possible, say that you'd like to set up a meeting to discuss some ways you would be able to help improve the business.
Employers are still looking for bright employees who will help them innovate and lead, not for yes men who may have skills but lack the analysis that are so valuable.
Readers, do you have any other tips that can help ace that all important test?
How is the job market in your area?  Are you optimistic or pessimistic about 2012?
Photo: Delos Ruins, Greece. 2011. Sam