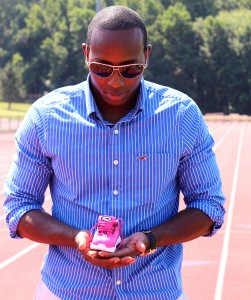 Hi, my name is Dominique, and this member post is severely late. I narrowly missed my chance at being a Yakezie member in the last class, and now I almost blew my shot for the Epsilon class. I need to get my life together.
Let's start this post over…
Hi, everyone my name is Dominique, and I'm a personal finance blogger who doesn't quite know what the heck to write about here. Hmm… I'll tell you about myself, my blog, and more importantly why I started blogging. Ya, you'll like that wouldn't you?
About Me
I'm a goofball 80 to 90% of the time. I'm the owner of www.yourfinancessimplified.com, and I literally can find comedy in every situation. I married the love of my life at a seriously young age (by today's standards). Wait, I have a feeling you know all this stuff already.
Damnit… now I'm rambling.
Let's just make a list of stuff I think you don't know
I am the cool black guy on the podcast "Two Guys and Your Money" with a few other Yakezie members.
I ghost write / staff write about 25+ articles per month.
I started a real estate blog recently, which is titled www.insiderrealestatetips.com. I talk about nothing but real estate on this blog.
I video blog once a week on my youtube channel (about whatever I want).
I'm writing a book about credit relief.
I'm having my first child in January.
My very first job out of college was for 55k, within a year I was at 80k, by 24 I was making over 100k.
I have a lot of credit cards and 0 credit card debt.
I own 4 homes.
I started school early (january baby) and skipped a grade.
We live on 50% of our income.
I'm not supposed to be here.
Woah, that last one was a monkey wrench in the list, let me explain.
I grew up in Philadelphia, Pennsylvania, 100 dollars from poverty and in a single parent home. My mother was in a weird space, and I talked about this on my blog, where she made too much to be labeled "in poverty" and get assistance but not enough to really make a difference. By that, I mean there were times I ate dinner, and she went hungry. We were really broke.
My father, who I recently connected with, was not in my life. He decided he would rather be heavily involved in narcotics and become a statistic. When my mother was about 6 months pregnant, she abruptly ended their relationship upon finding out about his narcotic secret and never looked back. I thank her for it.
Let's talk a little bit about my neighborhood. My best friends, who happen to live right next door to me, both had parents addicted to drugs. Several times on my long walk to school I was robbed at gunpoint. Oh, and for some odd reason, everyone I knew thought drugs, robbing, and stealing was normal (that's scary).
So, I think that last point is starting to sink it now…
Single parent household, crime and drug ridden neighborhood, and no positive male role models.
I'm not supposed to be here.
Why Do You Blog?
The same reason I'm still living today—my mother. You see, she was the one who hid me from the Philadelphia streets. She was the one who taught me that any situation can be overcome. She was and is my role model. To see her go from poor to rich, via hard work, had a major impact on me.
So, when she rose from near poverty to making over 150k per year (before getting married) and then lost it all through a messy divorce I was devastated, helpless, and clueless. I was stuck with the questions of why and how.
Truth be told, I didn't care about finances until one year before I got married. Shit hit the fan in my mother's marriage, and I didn't want that to happen to me. My mother and her now ex-husband did a few things financially that made little to no sense.
They liquidated their 401k to buy a home.
They charged up thousands of dollars on their credit cards to buy furniture.
They never communicated about their money.
They failed to file taxes.
They didn't maintain an emergency fund.
They purchased a rental property, and then put a relative in it
The list was endless…
So, I started reading about financial topics to help my mother recover from her divorce and be comfortable in retirement, while she still can. The blog came a few years after the divorce, but the reason was the same. I wanted to help my family and friends avoid financial pitfalls by being open and honest about finances.
The best part about all of this is that my blog idea is working. I have more family and friends in tune with their finances than I could imagine.
What's Next?
Since part 2 of me is on the way, via my little angel (she will be here in January and hopefully on my bday), I feel as though I must press on.
My mother did something for me that I will always be grateful for, she changed our family tree forever. She sent me to college via loans and showed me what sacrifice, dedication, and hard work can produce. So, I owe it to her to build on that.
The reason we live on 50% of our income is called generational wealth building.
The moment it was clear that my daughter will be here in January, my wife and I deposited enough money in a separate account to send her to any school in the nation. We also restructured our financial plan to accommodate a million dollar trust for our daughter by time she is 30.
All this comes from knowing that I'm not supposed to be here.
So, if you see me on twitter goofing off or if you watch my youtube videos, and I'm all jokey jokes, the reason is simple. If you knew you weren't supposed to be in the amazing place you were in, you would be happy all the time too.
See you guys around!