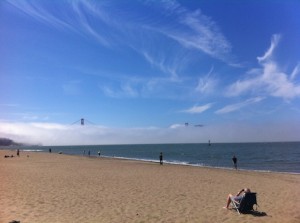 When content started being given away for free on the internet, we knew journalism, specifically print journalism was in trouble. Over the past 10 years, more than half of journalism jobs were lost in the Bay Area. The same trend can be seen across much of the country due to the disappearance of subscription based revenue. Advertising revenue became the only viable means of profitability for now bloated news organizations. Unfortunately, even ad revenue prices are coming down.
The New York Times is arguably at the pinnacle of print media. For those in the finance space, the same can be said for esteemed organizations such as The Wall Street Journal and The Financial Times. They all employ the best writers, the best editors, and the best creative directors. For many years, my journalist friends at such organizations viewed bloggers as bulbous ticks looking to be impaled by mightier pens.
Nobody can blame traditional journalists for looking down on bloggers. After all, most of us do not have formal journalism training. Our quality of writing simply cannot compare, especially when we have no editor to make our prose sing. We also do not have the patience for doing in-depth research partly due to laziness, but also partly because we aren't professionals. For 99% of bloggers, blogging is simply a hobby where we can relay our opinions and connect with others in a congenial way.
Since transitioning out of Corporate America, I've spent more effort on every article I write. Part of the reason is due to simply having more time. The other reason is because in order for me to make a sustainable living online, I need to generate more traffic by producing better quality content. Journalists and freelancers know this all too well.
MAKING $50,000 A YEAR AS A JOURNALIST IS NOT EASY
I have an affinity for journalism because the industry is being disrupted as badly as my old industry in financial services. Declining prices (ad rates/commissions) and cheap competitors (bloggers, algorithmic trading, online brokers) have all served to downsize the number of jobs available and compress compensation. Working harder for less pay while always having to look over your shoulder is no way to live.
What I understand from my journalist friends is that more journalists are being compensated by the number of page views their stories generate. Stable journalism jobs at large organizations are hard to come by as the trend is towards freelancing. If a journalist can earn is 2 cents per story view, they are now considered lucky.
Publication owners are savvy to employ this compensation model given they only pay a journalist if the article does well. One would think that such a compensation model would also encourage journalists to write the most unique, in-depth articles revolving around the world's most important issues. Unfortunately, the world is more interested in scandals, gossip columns, sex, and what your favorite movie star is wearing. The ADD generation doesn't want to read articles like the ones The Economist produces anymore.
Let's say you want to make the median American household income of $50,000 as a journalist today. At 2 cents per story view, you need to generate 2.5 million hits a year. 2 cents per story view doesn't sound like much, but if you are a blogger, you know that earning $50,000 a year on 2.5 million page views a year means you are making a whopping $20 CPM (earn $20 for every 1,000 page views or costs $20 for every thousand impressions from the payer's point of view)! With CPM rates closer to $2-$4, 2 cents per story view now seems aggressive. But, let's give our journalist the benefit of the doubt anyway for illustrative purposes.
To put the difficulty of achieving 2.5 million page views a year into context, the NYTimes.com attracts around 150 million pageviews a month according to ComScore. With 1,000 editorial staff members, that comes out to roughly 5,000 page views a day per or 1,875,000 page views a year per staff member. If we are to use 1.875 million page views a year and 2 cents per story view as a basis for calculating a journalist's income, we get $37,500 a year. $37,500 a year is not much for someone who works at one of the greatest print media publication on the planet. I lived off $40,000 my first year in New York City in 1999, and I had to skip meals and share a studio with a friend to survive!
Based on these estimates, it's clear why the print media business has seen tremendous downsizing over the years. The New York Times has been aggressively offering buyouts for many of its senior staff members to the tune of 2 weeks of severance per year of work. Meanwhile, Time Inc. is also looking to cut up to 700 jobs this quarter (out of 8,000) to save $100 million in costs as revenue continues to decline. As a severance specialist, I think two weeks per year is on the light side, but it's better than getting fired and left with nothing.
MAKING $50,000 A YEAR AS A BLOGGER IS NOT EASY EITHER!
From the years 2009-2011, the average article length on Financial Samurai was around 750 words. Since my retirement in the Spring of 2012, the average length has ballooned by 100% to over 1,500 words as I spend more time researching each topic to provide more value to readers. Every blogger knows that meatier articles do better with search engines. And every blogger knows that search traffic is what pays the bills. The result of longer content has been a three-fold increase in average daily traffic over the past twelve months.
But guess what? To follow the example above, it's taken me over three years to achieve over 5,000 page views a day or 1.875 million page views a year. During this time period I've had to write over 650 articles, edit every single one of them, find my own relevant pictures, and then promote them over social media. Trying to fix all the bugs that occur with running your own site is a full-time job by itself. When you put in so much work only to be rejected, discarded, and ignored, it is no wonder why most bloggers quit within six months. The essence of the Yakezie Challenge and the Yakezie Network is to provide motivation and a tremendous support group for everyone to succeed.
The typical personal finance blogger with 5,000 or more page views a day should be able to generate $4,000+ a month if their sites are properly optimized. That said, less than 0.1% of blogs out there receive such traffic. The difference between bloggers and journalists when it comes to making money is that bloggers are the media owners and the content creators. We are also not 100% reliant on advertising revenue. We can create our own products to sell. We can highlight other products we use and love as potential solutions for readers. There is also the possibility of hosting the often debated sponsored content as well. Essentially, bloggers have more flexibility to pivot because we are literally masters of our own domains.
MORE THAN MONEY
Most of us write because we love to write. Nobody gets into blogging to make a lot of money, just like nobody goes into journalism to become the next Rupert Murdoch. If they do, chances of failure are even higher. We want to be read and we want to be heard. If we ever try to calculate our earnings on an hourly basis, we'd probably start laughing deleriously before heading to the nearest bar and then start crying. Don't start calculating now!
What drives me to write are the connections I make with readers. It's like creating one big family of penpals from all over the world who are all trying to figure out ways to build wealth and lead better lives. The other driving force is creative freedom. We writers are creative types who often extend our skills beyond scripture. From choosing our tag lines to developing our brand through color schemes, we love to introduce new things to the public and see how they react.
Unfortunately, we can't live without a basic level of income. With $1.5 million dollar starter homes in San Francisco, $70,000 a year is the minimum amount I need to raise a family and be reasonably comfortable here in Fog City. Each person should calculate their own base line level income for happiness. When the industry is constantly evolving, it's imperative we adapt or get left behind. Here's a three minute video by Jeremy A. Smith from the Stanford Knight Fellowship talk series which captures the state of journalism today.
Despite getting let go from the Mercury News in 2007, Janice is more optimistic than ever about her future in journalism because she decided to start NeighborWebSJ.com. We understand the Janices of the web because we are the Janices of the web! Another important thing Jeremy touches upon is the lack of security. None of us full-time bloggers or journalists know how our revenue will flow from day to day. We can only hope for the best and keep on producing.
HOW BLOGGERS AND JOURNALISTS CAN HELP EACH OTHER THRIVE
Here are the pluses from each field:
Journalists: Massive distribution platform, superior writing skills, large personal network of other journalists, pedigree, public figures.
Bloggers: Owner of their own platforms, superior technical and internet search skills, potentially large personal network of other bloggers (Yakezie Network for example), more experience with internet monetization.
In any type of collaboration there needs to be mutual benefit.
Here is a list of what I think each side wants:
Journalists: More exposure, more recognition, more income, more autonomy.
Bloggers: More exposure, more recognition, more income, more authority.
Journalists and bloggers pretty much want the same thing! The main difference lies in journalists wanting more freedom to create, while bloggers have all the freedom they want, but lack authority.
Solutions To Creating More For Both Sides:
* Create more collaboration with journalists and bloggers through the creation of a portal or forum to share ideas, resources, monetization tactics and stories. Why not create the HARO (Help A Reporter Out) for Finance? The main difference being that our platform is based on building long-term relationships between reporters and bloggers similar to the model we have here at Yakezie.
* Include more bloggers as sources of information in articles written by journalists. The Yakezie Network represents practically every type of person with every time of scenario. We are mothers, fathers, lawyers, doctors, bankers, internet whizs, single parents, debtors, and creditors. We come from every major racial group as well. We just so happen to have blogs. Financial journalists can easily find a credible source from over 100 of the best personal finance blogs on the web.
* By using a blogger as a source, the blogger will in turn happily link back to the article, bringing the article more traffic, and therefore more income to the journalist. Sourcing a blogger as a resource provides more credibility to the story because the reader can simply click on the link to learn more about the source's personal story. Readers crave a back story, and bloggers are experts at story telling.
* The blogger develops authority and gains traffic by being mentioned in a reputable publication. Meanwhile, the reputable publication develops a powerful organic backlink that will help its article rank well in search for years to come. If a reporter highlights an individual who does not have a blog, they will not gain the benefit of a backlink to help their story through organic search. In other words, if there is a choice between finding a source with no online presence, and finding a source with tremendous online presence, the latter is preferred all else being equal.
* Journalists need to know that blogger's crave media mentions. Bloggers work tirelessly against all odds to build a name for themselves online. There's probably nothing more rewarding than getting mentioned in the New York Times, Wall Street Journal, or LA Times. Once a mention is given, a journalist will have an advocate for life who can be a continued go-to, reliable source for information in future articles.
* In terms of more direct income generation for journalists, large enough bloggers provide consistent freelance work to writers who have the skill to produce quality content. So far, bloggers in the personal finance arena are only hiring other bloggers as freelance writers. There should be no reason large personal finance bloggers can't hire freelance journalists in the financial field. Meanwhile, bloggers largely give maximum freedom to the freelance when creating their article. At the end of the day, it's about building a symbiotic relationship where both parties win. The combination of quality content plus branding and effective marketing creates tremendous opportunity.
WE WILL MAKE PROGRESS
As creators of content, it's important we stick together as we charter the unknown developments of the internet. Bloggers and journalists face the same challenges of declining ad rates, content theft, and a thinning of patience from our readers. The blogging platform as we know it may no longer exist in five years.
Bloggers are gaining more credibility in mass media with the formation of mega sites such as The Huffington Post, Seeking Alpha and Business Insider. If we can collaborate and leverage our respective expertise, I'm confident we will be able to continue to thrive.
START A MONEY MAKING BLOG
It's been around six years since I started Financial Samurai and Yakezie and I'm actually earning a good passive and active income stream online now. The online income stream has allowed me to pursue other more interesting things, such as consulting for various financial tech startups, traveling around the world, and spending more time with family.
I never thought I'd be able to quit my job in 2012 just three years after starting Financial Samurai. But by starting one financial crisis day in 2009, Financial Samurai actually makes more than my entire passive income total that took 15 years to build. If you enjoy writing, creating, connecting with people online, and enjoying more freedom, check out my step-by-step guide on how to start a blog. It's one of the best things I did in 2009 to help earn extra money and break free from Corporate America!
Updated for 2017 and beyond.