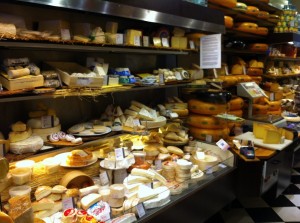 How diverse is your diversity committee? Not very, was the case with an old employer's first attempt at spearheading diversity in the workplace. There were no women or minorities on the committee. We all knew the intention was good, but we couldn't help but be reminded of the irony every single month the Diversity Newsletter was sent. This was back in 2000.
For better or for worse, there have been a lot of leadership changes in finance since 2000. In 2003, Stanley O'Neal was the first African American to be named Chairman & CEO of Merrill Lynch. Sallie Krawcheck became CEO of Bank of America in 2009 for a couple years. Meanwhile, Abigail Johnson assumed the Presidency of Fidelity Investments late last year.
If there ever was an "old boys' club" breeding ground, finance was it. Have a read of Liar's Poker by Michael Lewis if you want to get a further glimpse of how things worked in the old days. More than a decade later, the undiverse diversity committee I once knew finally reflected the people of the industry.
WELCOME YAKEZIE SENATOR
The Yakezie Network has always been about diversity since we launched in December of 2009. The internet allows us to look beyond our sex or race and focus on our substance, the stuff that really matters. Therefore, it is with great pleasure that I congratulate Dr. Dean Burke, Yakezie Member since August, 2010 of becoming Decatur County of Georgia's new state Senator!
I had the pleasure of grabbing some steak at The Palm's in Denver last fall with Dr. Dean, his wife, and Average Joe. Who would have thought a US Senator would ever buy us meal? An honorable one as we did have a 2011 Giants vs. Braves steak dinner bet to settle.
Given we now have a US State Senator as part of our blog network, I'd like to take this opportunity to highlight the Yakezie's diversity.
THE YAKEZIE NETWORK DIVERSITY
Take a look at the official Yakezie Network List. What do you see? I see the following:
* Female: 40%
* Male: 60%
* Racial representation: Asian, Black, Latino, Pacific Islander, White
* Religious representation: Christianity, Buddhism, Hinduism, Judaism, Agnostic
* Political View: Republicans, Democrats, Libertarians, Independents
* Occupation: College Student, Senator, Investment Bankers, Software Engineers, Hardware Engineers, Lawyers, Doctors, Venture Capitalists, Police Officers, Entrepreneurs, Librarians, Business School Students, Truckers, Construction Workers, Book Authors, Financial Planners, Stay At Home Dads, Stay At Home Moms, Therapists, Retail Managers, Teachers, IT Professionals, Musicians, Programmers and more.
* Living situation: Homeowners, Renters, Living At Home With Parents, Living With Multiple Roommates
* Love Life: Married, Single, Divorced
* Age range: 22-66
* Country: USA, Canada, UK, Australia, India, Guatemala
* Collective Reach: Over 3 million page views a month
* Total Members: 100+
THE IMPORTANCE OF SOMETHING UNIQUE
As you can see from the snapshot, the Yakezie Network is proudly made up of all different types of people. Whether you are rich or poor, black or white, a Senator or a stay at home parent, we are accepting of everyone because we believe that understanding different viewpoints makes us better people.
Ever since I attended international schools overseas up until the age of 14, I knew there was something special about a diverse environment. Diversity helps us be more accepting of all different types of people. With acceptance comes the ability to get along with others. The bigger and more diverse your network of friends, the greater your chances of achieving your goals.
Blogging is the one commonality that ties us together. We will never always agree, but we will always agree to continue helping each other out when needed.
THE YAKEZIE
ZETA

CHALLENGER APPLICATION IS NOW OPEN

For those of you who joined the challenge before August 15, 2012 please fill out the questionnaire to be considered a Yakezie Zeta Class Member. The 33 questions will likely take anywhere from 15-45 minutes so please save your work and scroll down to the very bottom and click submit. The questionnaire will be open until March 1.

The Yakezie Membership committee will review each application and send out notifications by March 8 to begin writing a Member Post or continue the challenge for the next class. If there are some holes in your application, please use the rest of the month to work on the holes and then submit your application by the deadline.

Good luck!

Looking to learn how to start your own profitable website? Check out my step-by-step guide on how to start a blog. It's one of the best things I did in 2009 to help earn extra money and break free from Corporate America!

Updated for 2017 and beyond.