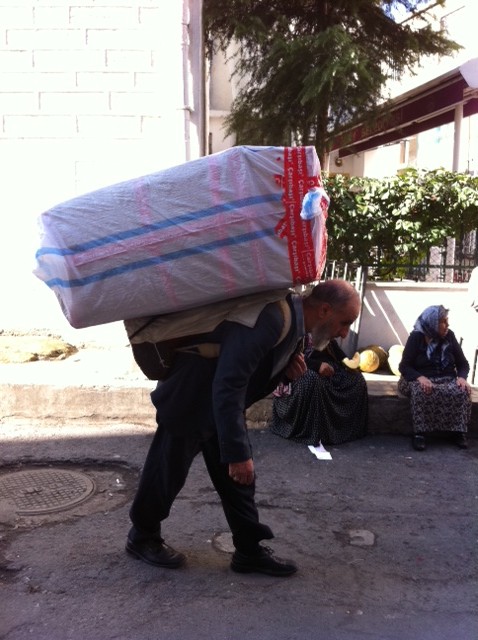 For those of you who've been following my writing on Financial Samurai, I recently announced that I've started a new part-time role as Personal Capital's content manager for its blog called Daily Capital. I'd appreciate it if you could check it out and lend your support. Maybe even leave a comment or 10 so I don't get fired too quick!
I'm very excited about the opportunity for several reasons:
1)   I believe in the product. Leveraging technology to grow your wealth and create a business to gather assets is a no brainer. Those industries who do not leverage technology will be left behind.
2)   The role is very similar to what I'm doing for Financial Samurai and the Yakezie Network, just with a massive clientele, and a large marketing budget.
3)   I get to physically interact with more humans, which I've found to be a necessity after working solo for almost two years. Full-time bloggers and freelancers know how lonely working online can get.
4)   There's a challenge to build something meaningful. Daily Capital has a lot of upside due to the resource's at Personal Capital's disposal. They've got CFPs, PhDs, MBAs, and industry veterans all looking to share their knowledge. They just need someone to focus on executing the goals. There's nothing more exhilarating than seeing things grow from hard work and creativity.
5)   The ability to finally experience San Francisco tech culture and grow my network. Working at a tech startup is on my bucket list. It would be a crying shame to live through the golden age of tech in SF and never experience what it was like.
From an employer's point of view, it makes sense to hire someone who is a believer of the product, user of the product, has experience in the field they are looking to hire, and wants a challenge. So far, the fit has been great and I want to share with you thoughts on how I was able to get a "real" physical job using my blog.
JOBS BLOGGING COULD HELP YOU LAND
First of all, I just want to say that I think the blogging community is AWESOME because we've all got our own stories to tell. I'm proud of every single one of us for actively putting ourselves out there. So many folks like to complain why the world isn't fair, yet do nothing about their situation. As bloggers, we are sharing our thoughts, finding solutions, and trying to make things better in our own respective niches.
We all know that blogging itself provides tremendous amount of rewards in terms of friendships, creativity, recognition, and revenue. The best are random words of kindness from readers in my opinion. More than half the battle is sticking things through. If you can simply stay consistent in your writing and have the mentality of never giving, chances are high good things will eventually happen.
Here are some jobs you could conceivably land with your blog:
Social media manager
Online community manager
Staff writer
Editor
SEO analyst
Marketing analyst
Analytics analyst
Advisor / Consultant
Public relations
A job back in your existing field of expertise.
Depending on where you live, income can range from $30,000 – $150,000 a year on average. You can either go full-time or go part-time the way I'm doing it right to see whether there's a good fit. I personally like the part-time route because it puts less stress on the employer to fire you if things don't work out as hoped, and it gives me more flexibility.
STRATEGIES TO GET A JOB THROUGH YOUR BLOG
There have been some fantastic strategies I've seen bloggers use to get a job. One of the most famous strategies is starting a site with a URL that makes it clear what you want. For example: TwitterPleaseHireMe.com. I've actually never seen a success story from this strategy (please comment if you have), so let's scratch this strategy for now as it seems a little too gimmicky and too desperate.
1) Search your affiliates. If you go to any ad network, there are literally hundreds of affiliates in travel, sports, financial products, athletic gear, health products, you name it. An affiliate network literally represents every single industry out there. The key is to not pick any affiliate, but an affiliate you use, love, and have actively marketed for a good amount of time.
2) Use the product. I've used Personal Capital for the past two years and have spoken to the blog liason a couple dozen times during this time. We've had lunch several times before and I even sat down with the CEO, CPO, and VP of Marketing down at their offices in Redwood City for an hour and a half to discuss strategy. When you use the product, write about the product, and meet the people behind the product, how could you not have an advantage over someone who isn't as intimately involved?
3) Write a review about the product. If you like the product so much, you might as well write a review about the product. You'll likely earn affiliate revenue at the very lease. After sitting down with senior management in Redwood City, I proceeded to write a 2,500 word Personal Capital review post discussing their new Investment Checkup tool. The review is unique because it discusses insights from management and also my thoughts on the future of Personal Capital from an investment perspective. Anybody from Personal Capital who reads the post will logically approve of the post because it's a positive write-up.
4) Produce stellar independent content. Good communication skills is a highly coveted in the work place. I firmly believe people who can speak and write well go much farther in life than those who act like Golem, sitting in a dark room with never any social interaction. It's important to treat your posts as if you're turning in a final. This means publishing articles with good structure, a good voice, and as free from grammatical and spelling mistakes as possible. Blogging is an incredible medium to demonstrate your persuadability, humor, or personality.
5) Create a "resume" post. It's important to create a "best of X" post once a year of your outstanding content. Include in your "best of" not only your best quality of writing, but also posts that have a ton of comments, or a large amount of social media shares. Your "best of" post is a quick and easy reference for any employer to assess your work. Just like writing a great resume, the "best of" post should be concise, clear, and impactful.
6) Show longevity and endurance. Nobody wants to do business with someone who is here today and gone tomorrow. Getting to know someone, opening up an account, and spending money takes a lot of effort. First let's look at things from a blogger's perspective. You certainly aren't going to be trying a new product and putting up affiliate links in relevant posts if the client doesn't hasn't been around a long time and doesn't have a big enough marketing budget. It's so painful to always pause or delete affiliate links, especially if you've got a huge archive.
The same feeling can be said from a potential advertising client. No client wants to advertise on your site if you haven't demonstrated you can stick things out for the long term. Employers find loyalty and persistence very attractive. The longer you are around, the more an employer will believe you will show the same type of commitment with them. It takes a lot of time to train new employees.
7) Show people how you use the product. The main strategy I've employed in generating affiliate income is by not selling the product. Instead, I just try and show people how I'm using the product to help me. This way, readers don't feel put off. Readers have a choice of following my lead or not. It's entirely up to them. So far, the results based on CTR have been great.
8) Leverage your community. One of the great things about the Yakezie Network is that when someone experiences some type of hardship, the rest of us tend to rally around this person to offer financial help in terms of writing or advertising opportunities. I saw many examples of the network helping out fellow bloggers back in 2010 when the economy was still going through a very difficult time. The important thing is to reach out and make your desires public so people can help you. The Yakezie Forum or other forums are easy to use.
9) Tone down the spiciness. When it's time to look for a job, it's probably best to tone down the spiciness of your posts. You don't want to write anything that could be deemed as offensive, even though you strongly believe one way or another. Financial Samurai is a very opinionated blog. I believe in sharing opinions in articles, or else we are no different from journalists reporting the news. But during the wooing process, I focused on publishing posts that were helpful in nature, instead of railing against the government like I enjoy doing.
10) Create a value proposition. If you really want to work somewhere, don't take no for an answer. Even if you've been rejected the first time around, try contacting other people at the organization or the same person with a new value proposition. If you can put together a simple five page Powerpoint presentation on how you can help them, you will be far ahead of 95% of your competitors who don't have such a presentation. You want to thoroughly understand their needs and problems and come up with ways in which to solve their problems. I only joined Personal Capital five months after I first met management. But during this time I continued to interact with PC personnel and publish PC-related content.
11) Highlight your metrics. Depending on what type of job you are looking for, your blog's metrics and your social media metrics can have terrific value. First, you can leverage your platform to drive awareness to their platform. Second, you demonstrate your ability to create, execute, market and engage. Finally, you might be able to impress them with the fact that despite making enough online to not have to work, you would still love to work for them because you like the product and the role so much. Note, revealing your revenue could backfire though if it is much greater than your direct boss' income. Play this one by ear.
SUPPLEMENTAL INCOME
Many of us blog for the sheer joy of communicating with others online. We like to write, market, and interact with the community. Many of us also see blogging as a viable way to make a side income while working day jobs we might not necessarily enjoy. Thank goodness for the invention of the internet.
But wouldn't it be a pleasant surprise if our side activities lead to a part-time or full-time job which has absolutely everything to do with what we enjoy doing already? Nobody blogs to get rich. We all know it's a labor of love. But maybe, just maybe if we keep our sites going for long enough, new opportunities will emerge.
Updated for 2016 and beyond.
Why Every Company Should Hire A Blogger For $200,000 A Year
The Rise of The Chief Content Officer – Next Hot Job Of The Decade
How Much Can Bloggers Really Make Online?
Regards,
Sam