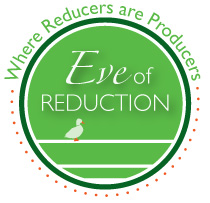 In my early twenties I had to purchase renter's insurance after my cat bit the mailman. I had nothing of value in my apartment; seriously, I was a baby-step out of college and borderline transient. I just needed to cover my feline liability. The insurance agent interrogated me on the value of my personal property. I'll never forget him saying, "Come on, every woman is either into shoes, handbags, or jewelry."
Not this (insanely cheap) woman. I went to art school; I can make jewelry out of compost.
What Eve Of Reduction Is All About
Resourcefulness and creativity are the essence of my personality and lifestyle. No, I'm not technically considered a financial guru, but I did use the aforementioned talents to pay off all my debt (mortgage, car, school loans) in less than seven years. And that PR sound bite landed me in Money Magazine, which prompted me to start my blog, Eve of Reduction.
At first, Eve of Reduction was more or less a diary of my upcycling and thrifty escapades. My real goal was to be a published author. I therefore put most of my effort into soliciting publishers, and in the meantime some of my furniture upcycling posts went viral. Those pageview numbers were exactly what I needed to land a publisher and write my first book, Living Simple, Free & Happy.
The Yakezie Challenge and Being an Author
At the time that I started writing my book, my publisher set forth their expectations of me as an author. If any of you have gone down the path of the non-fiction author, you know you cannot escape the word, "platform." Well, hello? Remember I said I had a blog? Correction, a hobby blog. Rrrright. I had to make my blog more than a few fluke traffic surges.
So it was in my hyper search for blogging help that I came across a comment Samurai Sam wrote on another blog. The comment was a brief plug for the Yakezie Challenge. I signed up immediately!
My first step was to mark my current Alexa rank in a notebook. It was in the ballpark of 3.4 million. Clearly I knew nothing about link love, guest posting and blogging tribes. Luckily my publisher didn't know that. (It was our secret, Yakezie.)
Little by little the formula started working. With each stride I was able to report back to my editor and at the same time really build my blog.
The Funny Thing About Goals
It's been over a year since my book was released into bookstores nationwide. And it's been six months since I broke through the 200,000 Alexa rank. But we all know those weren't end lines. In that time I decided I wanted to be a self-published author and an entrepreneur.
The Yakezie forum had some compelling posts about ebooks, which prompted my to write my latest book, Rooms Repurposed: A Purposeful Home, A Purposeful Life. The best part about writing the book was that I had about twenty experts contribute to my ebook. I connected with these experts through the free publicity service, HARO. Now, in order to use HARO for sources, you must have an Alexa rank of under a million. Check…Thank you, Yakezie!