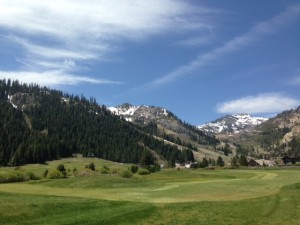 If I wasn't careful about diversifying my topics on Financial Samurai, my site could easily turn into a real estate blog. Real estate is my favorite asset class to build wealth because it's tangible, provides utility, has tax benefits, and can be improved upon. Stocks just don't get me as excited, even though that was my career for 13 years.
My main affiliate partner for real estate was Quicken Loans. I've used their product and recommended their product to plenty of people before. When you're shopping for a mortgage, it's always a good idea to cross check what you can get online the same way you check online for any product you're thinking of buying at the store.
For two years, Quicken Loans would generate a steady $1,500 – $1,800 a month in affiliate income. Then I noticed a drop off around August of 2013. I didn't pay any attention to the drop off because I figured refinancing volumes simply slowed given interest rates inched higher, and everybody who needed to refinance, refinanced already. I was also focusing on other affiliate products that were generating more revenue at the time, so the drop off wasn't really felt. Furthermore, I wasn't doing any refinancing or buying a new home in 2013 so my real estate posting related activity stopped.
For about four months I received $0 Quicken Loans affiliate income until one day, I asked my affiliate manager whether she had noticed a steep drop off in real estate activity as well? She told me, "We actually cancelled the program about four months ago and sent an e-mail." Oh crap! I guess I never got the e-mail because if I did, I would have sought an alternative product.
Because my other affiliate channels were doing well, I simply ignored my real estate drop off and didn't look for an alternative product for another two months after I found out. In other words, my laziness for 6 months cost me $10,000+ in affiliate revenue just because I couldn't be bothered!
THERE ARE ALWAYS ALTERNATIVES
What finally got me in gear to look for a new real estate affiliate partner was an interview. At my new financial tech consulting gig, I was asked to join in on the interview hunt for a new data analytics person. I obliged and met one fella who recently got laid off from Quinstreet (QNST).
As you may know, Quinstreet (QNST) is a publicly traded company based here in the SF Bay Area who bought personal finance blogs such as Get Rich Slowly and Consumerism Commentary several years ago. Unfortunately, Quinstreet has been going through a difficult time (see share price) and had to do some recent cuts.
The interviewee from Quinstreet mentioned that despite a rise in interest rates, they did a lot of business with Quicken Loans in 2013 and 2014. I was surprised! That evening I finally searched for other advertisement networks who partnered with Quicken Loans to resume our relationship. Linkoffers was one of them, but after a couple months of waiting with no response, I found an even better alternative in LendingTree.
LendingTree is an excellent substitute due to their huge online network. I met them at Finovate Spring 2014 in San Jose, and I was sold. Who hasn't heard the phrase, "When banks compete, you win"? They have good brand awareness and provide up to three competing offers for your mortgage.
After trying out LendingTree myself given I was in the process of finding a mortgage, I spent a couple hours adding in the new copy into all my relevant mortgage and real estate posts. It's only been about a month and a half, but the run rate is already about 30%-50% greater than before. Part of the reason is due to higher traffic on my site. But I think another reason is due to the brand recognition of the product.
If I had swapped out Quicken Loans for LendingTree as soon as the Quicken Loans offer stopped, I would have probably made up to $15,000.
STAY DILIGENT WITH YOUR AFFILIATE PARTNERS
Affiliate partnerships and offerings are always changing. It's important to stay on top of them by:
1) Make sure they notify you with any and all changes. I realized later on that I never received e-mail updates from one ad network because they had the wrong e-mail address. Reach out to your affiliate manager at least once a month to make sure you guys are on the same page. I pinged one affiliate manager, and she introduced me to a new online savings promotion which now leads to an extra ~$3,000 a month in CPC income. If I didn't reach out, I doubt she would have reached out to me. That's a failure on my part for not building a better relationship. You want to have a relationship so good that your affiliate manager is constantly looking out for you.
2) Carefully do an audit once a month. Each month, compare your month over month and year over year clicks, click through rtes, and revenue. The figures should more or less move with the amount of traffic your site receives. If there is anything greater than a 25% move, then you likely have a problem or a windfall and need to look into your article's search rankings or talk to your affiliate manager.
3) Constantly perform testing to see what works. Play around with banner sizes, banner types, sales copy, and ad positioning. There is a lot of upside to finding the absolute right image, copy, and location. Testing is a big part of what tech startup marketing companies do I've learned. Come up with new copy and test, test, test.
4) Don't neglect one product for too long. I'm currently in a real estate writing binge because I'm looking for a new home. As a result, I'll probably not talk as much about the stock market, career, or retirement planning as much. But because I'm aware of my biases, I've forced new topics in my editorial calendar to keep things diverse and interesting.
5) Play around with CPA, CPM, and CPC. Some ad spots do better than others based on the type of advertisement. For example, I've found CPC ads do best on my home page, while CPA ads do best when they are embedded in highly relevant content. CPM ads do well if you have a large amount of traffic and your clients are mainly concerned with eyeball share.
6) Copy bigger blogs. I've noticed an increasing number of smaller blogs copy the affiliate products I highlight and the editorial topics I write about. Good idea I say! Why not copy larger blogs that seem to be generating a lot of traffic, discussion, and revenue even though you might not know exactly how much they make. They're obviously doing something right. As a shareholder of Personal Capital, I'm happy to see the entire personal finance blogosphere get on board to write about the product. The only risk is that everyone's writing becomes homogenous, so don't stop being unique!
DON'T LOSE FOCUS
Life gets in the way all the time. Before you know it, six months have passed and you still haven't written that post or did that thing you talked about doing. The same goes for the affiliate business. Make it a point to audit your links and your results once a month. This way, the most you'll ever lose out on is one month's worth of income if something changes the day after you do your audit.
Just because your overall business is doing well, or another affiliate product is paying better, don't neglect the smaller partnerships. Over time, the revenue can really start adding up. There are always alternative programs that might fit your content better. It's up to us to keep searching, and once we do, focus as much attention as possible on our winners.
STARTING A MONEY MAKING BLOG
It's been over six years since I started Financial Samurai and I'm actually earning a good passive and active income stream online now. My online presence has allowed me to pursue other things, such as consulting for various financial tech startups as well.
I never thought I'd be able to quit my job in 2012 just three years after starting Financial Samurai. But by starting one financial crisis day in 2009, Financial Samurai actually makes more than my entire passive income total that took 15 years to build. If you enjoy writing, creating, connecting with people online, and enjoying more freedom, learn how you can set up a WordPress blog in 15 minutes like this one. 
Leverage the 3+ billion internet users and build your brand online. You never know where the journey will take you! There are professional bloggers now who make way more than bankers, doctors, lawyers, and entrepreneurs while having much more fun, much more freedom, and doing less work. 
Updated for 2017 and beyond.