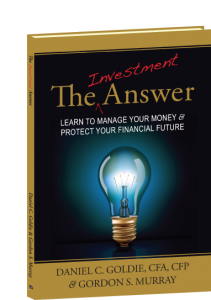 The Investment Answer includes a combination of investment topics rarely combined in such a concise text. In just 66 pages the authors Daniel Goldie and Gordon Murray ask and answer 5 investing decisions:
Do it Yourself Decision
Asset Allocation Decision
Diversification Decision
Active vs. Passive Decision
Rebalancing Decision
A QUICK OVERVIEW

The Do it Yourself Decision gives some inside information into the investment planners' world. Although Goldie is a financial advisor, and maybe a bit biased towards hiring an investment advisor, he entertained some thought provoking questions; Do you really have the time or constitution to successfully manage your portfolio? Data supports the fact that investors frequently act against their best interests and fall prey to behavioral finance biases such as following the crowd.
Anyone who's checked out investing knows that diversification and asset allocation spread the investing risk around. Where The Investment Answer excels is in integrating advanced theory into these investing topics. Four types of risk are introduced as well as standard deviation, the statistical measurement of risk. Charts, graphs, examples, and market anomalies cram lots of sophisticated information into two brief chapters. After completing the asset allocation and diversification chapters the reader will grasp the risk/reward relationship, asset classes, and historical returns of various asset combinations.
Chapter 4 continues to add modern portfolio research to the indexing vs. actively managed mutual fund question. See how costs add up and trounce portfolio returns. Finally, the regular task of "rebalancing" one's portfolio to keep it in line with the initial asset allocation is covered in chapter 5.
For those investors who aren't satisfied with the basics, Goldie and Murray include their comments on hedge funds, private equity, and commodities. These assets are not for the faint of heart!
CONCLUSION
For a "basic" investing text, the material may be a bit complex. Although, for those who have graduated from Investing 101 as well as investors who are pondering whether to hire an advisor or not, The Investment Answer is the solution. Investment advisors secrets are revealed; a great way to get "inside" information, that's legal.
One of the greatest strengths of The Investment Answer is the marriage between research-based Modern Portfolio Theory and practical investing concepts.  I highly recommend this book to anyone who is looking for not only the "what" of investing but also the "why."
To learn more about the authors, check out the exclusive interview here.
COMPETE TO WIN ONE OF THREE AUTOGRAPHED BOOKS HERE AT YAKEZIE.COM
* Follow Yakezie.com on Twitter and Tweet – 1 point
* Sign up for the Yakezie.com RSS Feed -1 points
* Check out the Yakezie Public Forums and Comment – 3 points
FOR MORE CHANCES TO WIN STOP BY BarbaraFriedbergPersonalFinance.com & ENTER
* Follow me on Twitter at BarbaraFriedbergPersonalFinance.com – 1 point
* Sign up for my RSS Feed at BarbaraFriedbergPersonalFinance.com – 2 points
The giveaway closes on Sun, Sept 19th. Please comment what you've done so we can keep track on both sites. Good luck and thanks for stopping by!
Book reviewed by, Barbara Friedberg, editor-in-chief of BarbaraFriedbergPersonalFinance as well as a portfolio manager and MBA professor. She has an MBA in finance and a BS in economics. Friedberg is passionate about financial literacy and wants to share her knowledge and experience with others.  Barbara is part of the Yakezie Product Review Team (YPRT).