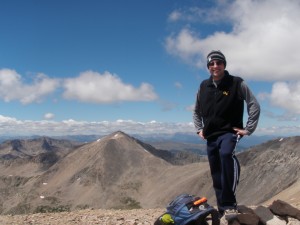 I don't remember when I started my first blog exactly, but I think it was sometime in 2005.  I signed up for blogger and began writing about my life.  I thought it was kind of fun, so I later added a blog called "Things I Learned the Hard Way," a comical look at the mistakes I have made in life and learned from.  I have closed down both of those blogs during my career search, but that experience did help me kick start the other blogs that I have going today.
In July, 2006, I started a blog called "Eric's Political and Economic Insight."  It was short lived, but I resurrected it in December, 2007 as The Israel Situation (IsraelSituation.com).  It was around that time that I realized I love blogging.  I started reading sites like ProBlogger and CopyBlogger.  I just couldn't get enough.  1,600 posts later, The Israel Situation is still going strong.  However, it was when I was reading Darren Rowse's book that I realized I could really build something special.
That was when I came up with the idea for Narrow Bridge – My Adventures in Personal Finance.  I have a finance degree, banking and finance work experience, and a fresh MBA, so helping people out with what I know best seemed natural.  In October, 2008, I started Narrow Bridge.  It was a place to explore personal finance topics and help people make their financial lives easier.  As any regular reader knows, I am a big fan of automation, aggregation, and a "fire and forget" financial setup using tools that I call the "Personal Finance Arsenal."
I was struggling to gain readers in the early days of Narrow Bridge, but I had a steady growth and I was enjoying what I was writing about.  However, I got my first big jump in readers, advertisers, and excitement when I joined the Yakezie Challenge.
I first read about the Yakezie Challenge from Well-Heeled.  Following her lead, I jumped in and "joined the wolf pack" of the Yakezie.  The month I joined, my monthly readership doubled!  It has continued to grow and thrive with the support and interaction with the wonderful community we have built.  One of the best impacts you have all had on me is to motivate me to do what I already knew I should be doing.  For example, publishing my first eBook: The Personal Finance Arsenal (e-mail me to become an affiliate).
I have paid off all but $13,500 of my $90,000 MBA in a little over two years, most of which I was in school.  If you want to join me for the rest of the journey, and learn cool tricks to make your money system easier, be sure to keep up with Narrow Bridge.  Here are a couple of my favorite posts from the last (almost) two years of blogging:
My Debt, How I'm Paying It, and the Snowball Effect
Stocks, Bonds, and Funds.  Oh My!
To echo everyone else, thank you to Sam and each member of the Yakezie for helping me grow as a writer and blogger.  I have learned a lot from each of you, and hope to continue learning, growing, and contributing to the success of the community.