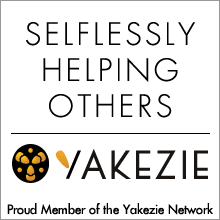 Giving is an integral part of the Yakezie Network whether it is helping a fellow blogger out or sponsoring the writing contest. We're putting our motto of selflessly helping others to work helping out our readers.
As much as we'd love to give something to every single one of you, four winners is better than none!  Thirty-three Yakezie Members and Challengers have banded together for the first annual Yakezie Holiday Giveaway.
With the world economy still trying to find its footing, we realize that the only thing we can really do is control our own actions.  Here's our fun little giveaway to all of you!
The Prizes
Who couldn't use a little extra cash this time of year? Whether it's for property taxes, gifts for friends and family, or paying down those pesky credit card bills, we've got some moola to help!  Furthermore, education in many ways is even more important than cash.  Education allows us to learn how to lead better lives, think in different ways, and make more money in the process.  As a result, we've decided to give a combination of cash and books.
We are giving away over $500 worth of prizes for four winners as follows:
Grand Prize: $160 cash via PayPal
Second Place Prize: $100 cash via PayPal
Third Place Prize: $60 cash via PayPal
Wild Card Prize: $200 worth of personal finance books including: Debt Free For Life by David Back $20, Super Sectors – How To Outsmart The Market Using Sector Rotation and ETFs by John Nyaradi $50, Your Money Ratioins by Charles Farrell $26, Living Well With Bad Credit $13, Getting Started In Real Estate Investing $19, Leading Chang by John P. Kotter $25, Never Lose Again – Become A Top Negotiator by Steven Babitsky $26, and Control Your Cash by Kincaid/McFarlane $18.  If the standard postal service medium box can fit more, more books will be added!
Sponsors
The following blogs donated to the prizes and their generosity is greatly appreciated:
Bucksome Boomer
One Cent At A Time
So Over Debt
Prairie Eco-Thrifter
MaximizingMoney.com
20 and Engaged
Wealth Informatics
Broke Professionals
Frugal Zeitgeist
KNS Financial
Fat Guy, Skinny Wallet
Sustainable Personal Finance
Not Made of Money
Squirrelers
Money Is The Root
Financial Success for Young Adults
20's Finances
Everything Finance
Mom's Plans
Money Q&A
Budgeting in the Fun Stuff
The Penny Hoarder
FamilyMoneyValues
MoneyCrush
The Debt Myth
Beating Broke
Live Real, Now
The Jenny Pincher
The College Investor
Invest It Wisely
My Personal Finance Journey
The Frugal Toad
Financial Samurai
Giveaway Rules
To enter the giveaway, the Rafflecopter giveaway form located below is live from November 29th – 10 AM EST – December 12th 12:01 AM EST. All entries in the form below support all the participating blogs. This giveaway is open to those 18 or older. You must have a PayPal account to claim the cash prizes and an U.S. mailing address to claim the box of books. The winners will be selected via Rafflecopter.
There are 33 possible entries and I hope you take advantage of each one and visit the sponsoring blogs. Good luck and Happy Holidays!  All winners must be subscribed to Yakezie's RSS feed in order to be notified if you are a winner.  Please also leave a comment stating you have entered and what your main goal for 2012 is!
You need javascript enabled to see this giveaway.