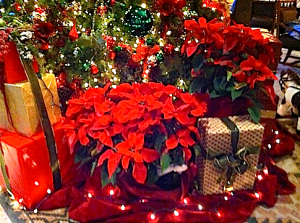 Holy smokes, how did it get to be mid November? I don't know about you, but for me it really doesn't feel like Thanksgiving just days away. This is the first year in a while that I don't have any plans at all for Thanksgiving. Maybe that's why it has really snuck up on me! I did my family vacations off peak this year to save money and avoid travel stress, and my group of international friends that I usually meet for Turkey Day are traveling this year. So, my Thanksgiving is going to be a quiet day of watching the Parade, betting which pooch will win the dog show, ordering some Chinese take-out, and getting some R&R.
But what I have been thinking about a lot in the last few weeks are holiday cards and Christmas shopping. I was quite pleased that I made some good headway on my immediate family's gifts last week and was almost done with all my holiday shopping until I realized I almost completely forgot I still have to figure out what to get for my nieces, nephews, younger cousins, and the SF Fire Fighters Toy drive. Whoops!
Staying Ahead Of Crunch Time
Even though Christmas is still a month away, it already feels like crunch time to me! It always takes me a while to figure out what to get the kids in my extended family. Kids can be so picky and hard to shop for sometimes, and I don't want to be known as the bad gift giver! Plus since I have to ship their gifts all over the country because I won't be traveling, I have to make sure I get everything in order plenty early.
Last year I was way behind and had to do a lot of last minute shopping, and the extra shipping costs to get all the presents delivered before Christmas was a big punch in my wallet. I really want to avoid that happening again this year!
Is It Really Worth It To Buy Gifts In Advance?
There are some folks out there who advise buying gifts months and months in advance. What do you think? I have to disagree with that advice. The farthest in advance I've got holiday gifts is about 2 months, but usually just about a month early.
Anything longer than that just doesn't seem to make any sense to me. Why? People's tastes change all the time, especially kids! Plus, I don't want to get something, find out the recipient buys it for themselves later, and then not be able to return what I bought for them because the return policy period expired. Plus there's also the risk of buying something so long ago that you forget about it or misplace it. And then you end up spending way more money than you really needed to.
What I advise instead is to plan and save for gifts in advance. I like to jot down ideas as they pop into my head throughout the year, and set aside some of my leftover cash each month into a holiday gifts savings account. Building that stockpile during the year comes in handy by the time I have to start shopping and I don't have to worry about the return policies or losing anything.
Gotta Love Those Rewards Points
Another thing I've been doing a lot in the last few years is using my credit card rewards points to buy holiday gifts. My parents need a fair amount of financial help, so I've been using my points to get them practical gift cards for groceries, gas, and sundries for holidays and intermittently. Being able to use rewards points has helped me manage and cope with some of the stress and burdens I've struggled with having to support my parents financially.
But I've noticed it can be easy to forget we have rewards benefits on our credit cards unless we actively monitor them. So I created a calendar reminder every month to check my reward balances, which has come in really handy. If it's been a while since you checked your reward points, you should go jump on that today! You could save a lot of money utilizing those points to buy your holiday gifts, and also put those rewards to use before they expire.
Know Your Rights: The Fair Credit Billing Act (FCBA)
Since a lot of us buy gifts online, it's good to familiarize yourself with the Fair Credit Billing Act. In short, this act protects us from billing errors such as charges for goods and services that weren't delivered as agreed, getting billed twice, unauthorized charges, not getting refunds processed for returns, and such.
We've all called our credit card companies before to dispute charges, but you may not have known that there are actual laws in place for our protection. For example, did you know that a lot of credit card issuers don't actually allow merchants to charge customers before products are shipped? I place a lot of orders on Amazon with various unrelated items in my cart, which as a result often ship at different times, and my credit card is charged multiple times when each shipment is sent. So if you ever notice that a vendor charges your credit card prematurely you can report them.
Are You For Or Against Sharing Wish Lists?
With all of this holiday gift buying on our minds, have you thought about what you want for Christmas this year at all? I'm curious how many of you share your own wish lists with family and friends. I used to do that with my immediate family until the economy went bust and never went back to doing it.
The advantage of sharing wish lists is having a higher chance of receiving gifts that you actually want and plan to use. It can make the buyers job a whole lot easier too, but the flip side is that as an adult it can make you seem picky or even greedy unless you have only frugal items on your list.
Also be sure to check out my Pre Holiday Checklist For Your Career And Sanity. And for those of you newer Members who aren't familiar with my blog Untemplater.com, please head on by to say hi! I'm a lifestyle blogger who writes a lot about business, travel, and entrepreneurship.
So enough about me – what are your holiday gift buying habits and routines?! How far along are you with picking out your holiday photo cards and buying presents? Do you share your own wish list? Anyone using reward points to buy gifts this year?