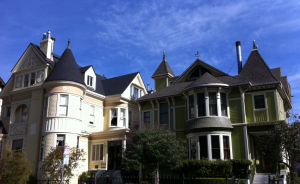 For the right price, everything is for sale. So when my Realtor friend pitched to put my home on the market given the lack of inventory, low interest rates, pent-up demand, and Google/Facebook/Zynga/Apple/LinkedIn money, I said, "Sure why not!"  It's estimated that Facebook's IPO could increase the value of Bay Area property by some $1 billion dollars over the next several years.
I have a single family home in San Francisco that could very well be suitable for a young internet executive couple looking to start a family.  I told my real estate agent that if I don't get X amount, I'm not selling, and he agreed.  It's important to manage his expectations, since he's the one who's going to be spending all the time staging, marketing, photographing, and showing.
The real estate market is still booming in 2017 and maybe it's time.
SELLING WHEN YOU DON'T NEED TO SELL FEELS GOOD
It feels empowering not having to sell if you don't get your aspirational price.  In a way, it's kind of like going to a bar with your buddies and having no fear of talking to the hottest woman there because you already have the most beautiful wife already.  In another way, it's like waiting to see if you get an acceptance letter from Harvard, when you've already been accepted by Princeton, Berkeley, Columbia, Stanford, and MIT.
Or maybe, it's like veteran Jason Kidd playing basketball the year after he's won the NBA championships.  And since this is a personal finance site, in a final way, it's like going to work, when you don't need to because you've generated enough passive income to quit your job if you want to.
Renting my house literally costs 3x my mortgage interest and property tax payments post refinance, making it silly to move.  When rents are this aggressive, it's only a matter of time before property prices start marching higher.  I truly believe that property prices will be higher 3-5 years from now.
DISAPPOINTED IN MY REAL ESTATE AGENT
* Showed up to my house in a sweaty t-shirt, shorts, and sneakers for a private showing.  I was shocked when my realtor strolled up to my house 5 minutes before the private showing in post-tennis clothes.  It would be one thing if he was clean, but to stroll up looking sticky after a 1.5 hour match is completely inappropriate and disrespectful to the buyers, and to myself.  I would never dare go to a meeting that way, and I'm just absolutely baffled he would show my house in his getup.  Weekends are when real estate agents are busiest!
I e-mailed him after, insisting he keep a full change of clothes in one of my bedroom closets.  His presentation caused my blood pressure to rise.  Maybe if my property was a studio in a bad neighborhood, it would be OK for him to come show my place in shorts and a t-shirt.  But, at least take a shower beforehand dammit!
* Doesn't listen to the client.  My realtor has been pushing me to do an open house.  I told him NO twice, because all open houses do is open yourself up to your nosy neighbors and to potential robbery.  I even sent him a report from the National Association of Realtors saying that only 2% of transactions ever come from open houses.  I've personally been to over 100 open houses and I have never bought a thing!
I told him I cherish my privacy and my safety, and to just use the internet and e-mail marketing since 80% of buyers find their homes on the internet.  He continued to push back, saying he wants the house to generate this "frenzy factor".  I told him why can't he just host a private open house where each prospective buyer and agent is pre-screened to create a similar wow factor? I did that with my rental property and had 30 people come in a one hour window.  He shrugged.  Open houses are for the real estate agent to find new clients, and they are not good for the seller!
* False assumptions.  After saying that I wouldn't have to pay anything out of pocket, he springs the necessary $440 pest inspection fee I have to pay for the disclosure packet.  I'm all for a thorough disclosure packet, however, if you know the amount of commission I will end up paying my realtor, you will shit a brick at his audacity to back pedal and get me to pay the fee.  What was originally a "no cost to you" process of listing, suddenly is now riddled with a $440 pest inspection fee, a $1,000 paint job in the living and dining room, and who knows what else.
* Not in my corner.  My realtor is on a tennis league team which I was thinking of joining.  I use the word "was" because when I asked him whether I had a chance to play singles for his team, he told me that it would be hard because the singles players there have been members for a long time already.  In essence, he wasn't in my corner.  He didn't offer to say he would talk to the captain to try and work me in.  He stonewalled me.  I don't want a realtor who isn't 100% in my corner to earn a 5 figure commission off me.  The messed up thing is, I kick his ass in tennis, and would beat his team's singles players 80% of the time because I know who they are!
WHAT TO LOOK FOR IN A REAL ESTATE AGENT
* How big is his or her network?  The longer he's been in the game, the larger his network.  Real estate agents can work from anywhere, so they don't necessarily have to be a 10 year veteran of one firm. In fact, if they've moved every 3-5 years, that could be a good sign they are in high demand.  There is a virtuous cycle on one's reputation, the longer they have been working.
* Does he have a web presence?  If your realtor doesn't have a hisname.com website in this day and age where 80% of properties are found on-line, then you should be a little leery.  The website should have basic info such as his bio, his previous transactions, thoughts on the market, some pretty graphs, and so forth.
* Does he do what he says he's going to do?  If he says he will be at your house at 1pm, does he arrive at 12:45pm to prepare the house and gather his thoughts beforehand?  When he says he will handle the upfront costs, does he pay for everything or try and get you to pay some of the bill?
* Intelligence. You must ask them questions about their thoughts on the markets and see if they can put together a coherent argument.  I've come to realize that some people are just dumb, and Realtors get an extremely bad wrap for being dumb by just regurgitating what CNBC, or the National Association of Realtors write.  The realtor should have his own opinions, and facts that buttress these opinions.  With good intelligence, also comes good salesmanship, because the more you know, the more you are able to sell convincingly.
* Integrity.  The one thing I like about my realtor is that he has great integrity.  I asked him whether I should disclose a minuscule leak in the ceiling that I fixed and he said, absolutely.  I asked him whether I should turn on the portable air-filter in one room to help drown out some outside noise, and he said best to leave it off to be completely upfront.  Good integrity goes a long way because it minimizes the risk of negative surprises.
* Does he make people feel comfortable?  If you don't feel comfortable being around your realtor, the buyers probably won't feel comfortable either.  The good thing about my realtor is that he leaves people alone to walk the property and doesn't pepper them with questions.  He lets people take their time and follow-up with him.  I generally see this as a positive sales attribute, because I dislike pushy sales people.
* Can you feel his hustle?  When you wake up in the morning, has he sent you some new thoughts and a marketing game plan?  Has he created a Google Docs spreadsheet to track all the prospective buyers who have come through and shared the file with you?  Has he suggested you go with him to make appointments to see the competitive properties on the market?  You need to see and hear his hustle.  You don't want him strolling to your house in the nick of time in his shorts and t-shirt because he had a practice match beforehand!
REAL ESTATE COMMISSION RATES NEED TO COME DOWN
The oligopoly priced 5% minimum commission fee is ridiculous for expensive cities such as San Francisco and New York.  Why on earth does it cost $150,000 in commissions to sell a $3 million dollar house, for example?  I can maybe understand a $10,000 commission on a $200,000 house, but it doesn't take 15X more work to sell a $3 million dollar house.
Despite the price fixing, don't underestimate the power of the 2.5% commission for the buyer's agent.  The 2.5% commission for the buyer's agent is an incredible incentive that makes Realtors hustle to do whatever it takes to make the buyers happy, which hopefully leads to a smooth transaction.  Some agents will literally not show their clients a particular house that fits their needs if the commission is too low!
Paying a 5% commission makes me sick, however, I do feel I'm getting better "value" that the fee is split and incentivizing both parties to make something happen.  Don't feel their commissions are fixed, either.  Both sides are definitely willing to negotiate down their commissions if the choice is between walking away, and making a transaction happen.
See: How Much Does It Cost To Sell A House?
THE INTERNET SAVES THE DAY
Even if you are stuck with a dud of a real estate agent, know that it is very hard to screw up a sale if you've priced your properly correctly and made the house look its best condition.  With sites such as Trulia, Zillow, the MLS, and the agent's own network, the word will get out online and over e-mail that your property is for sale.
Perhaps some Realtors have an amazing amount of charm to convince buyers to buy.  However, a home is usually one's biggest purchase, and I don't believe people can get convinced too easily.  The selling agent's main responsibility is to get the word out and show the house.  So long as the Realtor isn't rude, or an idiot, the market will set the price.
I'm enjoying this home selling experience because of all the things I've learned and shared with you here.  The process is still stressful, even though I don't have to sell.  It's a pain to keep the house clean and the waiting can be quite aggravating. However, I'm taking the process in stride, so that if and when I do really want to sell, or need to sell, I'll be more prepared than ever.
In the meantime, I'm looking to invest in the heartland of America through real estate crowdfunding site, RealtyShares. RealtyShares is the largest, and most comprehensive platform where investors can take a look at various real estate deals around the country and invest more surgically. The coastal real estate markets are now cooling in 2017. It's time to invest in Middle America where cap rates are 10%+.
Note: The basic difference between a real estate agent and a REALTOR® is a REALTOR® is a member of the National Association of REALTORS®.  Both are licensed to sell real estate. 
STRONG RECOMMENDATION
Shop Around For A Mortgage: LendingTree Mortgage offers some of the lowest refinance rates today because they have a huge network of lenders to pull from. If you're looking to buy a new home, get a HELOC, or refinance your existing mortgage, consider using LendingTree to get multiple offer comparisons in a matter of minutes. Interest rates are back down to ALL-TIME lows in 2015 due to tremendous volatility and uncertainty in the markets. But the Fed is signaling they will be raising rates by 2016. When banks compete, you win.
Related posts:
The Best Time To Buy Property Is When You Can Afford To
Photo: San Francisco Victorians in Pacific Heights, 2017.