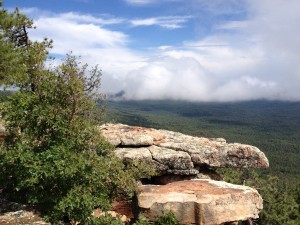 Self Sufficient Roots
I guess like anyone it began in my youth. My parents were pretty frugal partly out of necessity, I have six brothers and sisters, but also from their experience growing up in Boston during the 1930s. Some of my earliest memories are of the summer trips to Boston, all 9 of us crammed into the station wagon, stopping for breakfast along the Pennsylvania Turnpike and my Mom tossing bags of homemade snacks to us when we would get restless on our 12 hour journey.
My grandparents were French Canadian and both grew up on farms in Quebec so they had a strong work ethic and lived a self sufficient life. I can still remember the stories they would tell! Every fall my grandmother and her twelve brothers and sisters would harvest sap from the Maple trees in the forested hills of the farm she grew up on to make maple syrup. My Grandmother's eyes would sparkle as she would tell us how the whole family would stay in a simple out building until the harvest was finished. I was taught what a self sufficient life is by helping my grandmother tend the grapes used for making wine or handing my grandfather a screwdriver while he was tinkering with the boat motor at their summer cottage in New Hampshire. My grandfather was a painter and was always tinkering or repairing something, they did not have the money to hire someone and probably wouldn't if they did.
Like Father Like Son
My Pops learned from his Dad and so did I.  There were many projects that I would help my Dad with. It seemed that the Family station wagon always needed a tune up or a rust hole repaired. I learned the fine art of applying sheet metal with pop rivets and the magic of body filler. If you owned a Ford in the 1970s you know what I'm talking about. These skills I would later use to keep my first car from falling apart as I travelled the pot holed roads of western Pennsylvania as a teen. One project that remains infamous to this day is when my Father decided to remodel the basement. He recruited my three brothers and I to lay tile, install paneling, and put in a drop ceiling. Since he was a nuclear physisist, (yup, he really did design nuclear power plants) he decided he would take care of the wiring. To make a long and hilarious story short, he ended up calling a neighbor who was a master electrician to undo most of what he did! I learned a lot from that project but most importantly I learned that sometimes you need to hire an expert!
No Pain No Gain
Fast forward a bit to High School.  My parent's provided us with a comfortable middle-class lifestyle but if we wanted something we would have to work for it. I worked part-time during high-school and managed to save enough money to purchase a 1969 Olds Cutlass with my younger brother. It was a piece of crap but I loved that car! Those auto repair skills I learned from my Father came in handy and I have the scars on my hands to prove it! I became more and more independent during those years and in my junior year my world was turned upside down when my parents divorced. After a few years of being angry at the world, I picked myself up and got on with my life. I applied and was accepted to college and graduated with a double major in accounting and Management Information Systems. I'm proud of the fact that I put myself through college, it was difficult but worth the sacrifice. I was hired by Westinghouse as a financial analyst and after 8 years became dissillusioned with corporate america. I decided there were more important things that I wanted to accomplish in my life and the work I was doing would not allow me to do that. I went back to college to get my teaching degree in Science and have been Teaching for 16 years now.
Teaching has been a tremendously rewarding experience and I don't know too many other professions where you can make such an important impact in someone's life on a daily basis.  That is why I left corporate finance and that is why I continue to teach. Having said that, the compensation I receive for my efforts has been a dissapointment as I make roughly $20,000 less than someone with the same professional credentials and experience in the state I grew up in. Knowing that I needed to increase my income and the only way to do that was to generate additional income outside of Teaching, I enrolled in a program that would allow me to sit for the CFP.  I completed the program and began looking into how I could best use the Financial Planning knowledge I gained from my coursework and it became apparent that I could not afford to quit Teaching and give up my retirement benefits for what looked to be years of apprenticeship, client building, and uncertain income.
Entering the Blogosphere
I started blogging as a way to share some of my financial background and make some money at the same time. Frugal Toad is about saving money plain and simple. If you are looking for personal narratives you'll need to go elsewhere, I try to give readers practical money saving advice without wasting their time. It doesn't always work but I try. One of my ventures, Bloggers Classifieds, grew out of my need as a rookie blogger to find help with the many tasks associated with running a blog. The idea was to create a place where bloggers could connect and share their products and services, a Craigslist for bloggers if you will. It has been well received and several Yakezie Members advertise their services there so I encourage you to check it out.
It has been such a privilidge being a part of Yakezie and getting to know so many of my fellow bloggers. I look forward to working with you in the coming months!
Over the next several weeks we will be highlighting the Yakezie Epsilon Member Posts. If you're interested in partaking in the Yakezie Challenge you can find more information here.