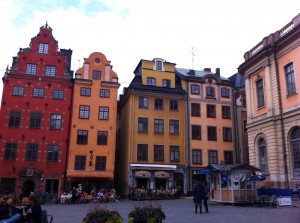 Now that the real estate market is showing signs of upward movement, some people will be thinking about upgrading. A lot of folks sucked it up during the downturn and now they want a bigger home for their kids, a better location for a shorter commute, or a smaller property to keep maintenance down.
Before you sell, your home probably could use some improvements to garner as much buying interest. The dilemma is: How much more cash are you willing to tie up in your home? Imagine plopping down $10,000 to remodel a bathroom and nobody ends up buying the place for your asking price? You don't want to be house rich but cash poor.
With this in mind, you might consider taking out a HELOC or doing a cash out refinance instead to release some equity in order to make home improvements or fix necessary things such as a leaky roof.
Whilst this in itself is not a bad idea, it pays to consider all options and consider if releasing equity will damage the prospects of re-mortgaging for your new property.
Is equity finance your only option?
To begin with, take an inventory of the home. Try to look at your house with a super-critical eye and see past all the familiarity. Does it need cosmetic work or are there issues that will need serious work.
Include the following:
Paintwork and doors – interior and exterior
Screens
Floors
Fixtures and fittings in kitchens and bathrooms
Integrity of flooring, walls, roof, pool etc.
If adding to the home could increase its value considerably if building work is carried out
Once you have done this, you will have a much better idea of what needs doing, or can be improved and how it can be done. Cosmetic issues, even with fixtures such as kitchen cabinets really shouldn't need a loan, as these can be carried out cheaply and a little at a time.
However, if construction work needs to be done, then you may need to consider finance.
Finance Considerations
Firstly it's wise to look at any government programs that might be available to you as there are specific lending programs that are aimed at helping homeowners carry out improvements or renovation.
To begin with, have a look at the FHA title one home improvement loan program. These can be taken out even if there is no available equity in the home and are affordable loans which can even exceed the value of the home.
The loans are fixed rate and the maximum amount allowed is $25,000 for single-family homes. The maximum term of the loan is 20 years. For those who do have equity in the home, check out the FHA cash-out refinance option.
It's worth noting that a credit scores are still taken into consideration and whilst they were designed for low-income families, there's no guarantee that you'll qualify.
If you don't have a FHA mortgage, or don't qualify, then it's time to get your research hat on. Look at a wide cross-section of lenders and don't bite the hand off the first one that you see.
Lenders consider home improvement a legitimate reason for taking out a loan, so it shouldn't be too much of a problem getting one if your finances are in order. However, not all lenders are created equally and you want the best possible deal, so really do shop around until you find the best deal for you.
Also consider using your local credit union, which often have specific programs designed to help home owners to get loans for improvements. However, if you have a poor credit rating, you will need to address this first.
Once you've got a few offers from different lenders, read thoroughly and compare each side by side carefully. Read the small print, paying particular attention to interest rates, if they're capped or fixed and make sure that the loan won't end up taking a huge chunk out of your future finances.
Don't qualify for refinancing or would rather pay cash?
Home improvements always seem to take a little longer than planned. For heavier duty construction work, you can pay in installments so that you can check their work and incentivize your contractors to do a good job. Never pay everything upfront! It's just human nature to start relaxing after payment is made.
For cosmetic work, have a yard sale and rid your home of all unwanted items, being ruthless with what you don't need and kick-start the project that way. Then work out how much it's likely to cost and start with one room at a time, getting it perfect before moving on to the next.
Inexpensive cosmetic improvement suggestions:
Refacing kitchen cabinet fronts
Engineered wood that is stronger and cheaper than ever now
Painting
Replacing screens
Installing shutters
Deweeding, mowing, and landscaping the yard
Replacing basic fittings such as door handles, fans and light fitments
Kitchen and bathroom re-grouting and tiling
Exterior lighting
Placing potpourri or fragrant soap in the bathrooms and kitchen
You'll get the most bang for your buck with the above improvements. It's probably best to do the cheapest and easiest improvements first and then work your way up to the more costly improvements. Ask your friends and realtors for an honest assessment of where your house can improve. Sometimes, all it takes is a little bit of paint and decluterring to make your house shine again!
Recommendation:
Shop for a better mortgage. LendingTree Mortgage offers some of the lowest refinance rates because they have a huge network of lenders to provide mortgage loans, home equity loans, and home equity lines of credit. If you're looking to buy a new home, consider using LendingTree to get multiple offer comparisons in a matter of minutes. When banks compete, you win.
Updated for 2017 and beyond.