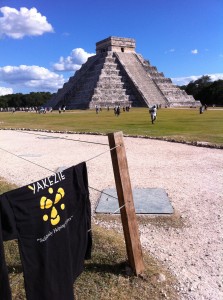 At last.  Sometime in the latter half of June 2011, Google finally updated their PageRank system to the delight of many of us here at the Yakezie.  It's been a long road for many of you who have been stuck with a 0 PageRank for months.  But, never one to lay down and roll over, we as a group collectively managed to elevate the importance of mozRank in the website ranking ecosystem.  Not only did we implement mozRank as a key metric for the Yakezie Blog Network list, we wrote posts describing the merits of the system which updates much more frequently, and have also convinced advertisers to use the metric as well.
I am extremely proud of all of you who stuck it through and got bumped up.  Instead of giving up, you kept on producing good content, linking out to each other, and sharing each others words.  A few of you have seen a loss of a PR point which doesn't make sense.  Meanwhile, some of the less active bloggers achieved a PR of 5 or 6, which is excellent, but also quite curious as well.  Often times, there is no rhyme or reason to Google's blackbox Pagerank system, but it is what it is.  Collectively, the entire Network wins, and if the Network wins, each individual Member wins as well given the increased authority and confluence of proposals that come our way.
Just looking at the Yakezie Blog Network list now, I am absolutely blown away by how excellent all of our sites are.  It's one thing to have a list of personal finance bloggers, but it's another thing to have a list of extremely impactful bloggers that know each other and collaborate!
"CREATING POWERFUL FRIENDS"
When I first started thinking about creating the Yakezie Network in the fall of 2009, I really just wanted to have a fun and open community to share ideas and hang out with online.  Furthermore, I was kind of sick of getting kicked around in the blogosphere, getting ignored and rejected.  What I envisioned was a group of powerful friends to collaborate with and be able to do anything.  Hence, the post "Creating Powerful Friends: Samurai's Alexa Ranking Challenge" was born with the proposal and framework.
Fast forward one and a half years later, it's kind of surreal to see so many friends come together and grow in online significance!  With the latest Google PageRank update, steady rise in mozRank, fall in Alexa, and increase in Belts of Honor points, we have truly become such a fantastic and powerful group of bloggers!  I don't think many of us could have imagined such a leap of progress in such a short period of time.
I'm just so pumped that everybody has shown the perseverance and persistence to continue building their sites.  Writing at least two to four posts every week for the most part takes a lot of discipline, especially since so many of us have day jobs, families, and other responsibilities.  I remember at one point being so worried (or inspired) I couldn't keep up that I wrote four, 800+ word posts on my 14 hour flight home on my iPhone because I knew I had to get on another flight a couple weeks later and didn't have the time!  We find ways to adapt, because we want to succeed.  And when we see other people succeeding in our group, we just want to try that much harder!
JULY WELCOMES A NEW CLASS OF YAKEZIE MEMBERS!
Sometime in mid-July, we will formally welcome the newest class of Yakezie Members.  Like the Beta Class, we will have a sign-up form that asks simple questions such as when you joined the Challenge, what was your Alexa rank, which 10 Members have you developed relationships with, which 10 Challengers have you developed relationships with, and so forth.  The questions are simply to ensure that we indeed know who you are, and that you have demonstrated your willingness to selflessly help others and give back to the community.
We are an exclusive group, only to the extent that we want the most dedicated and team-oriented individuals to join.  You would be surprised to discover the intent of some.  Those who like to make excuses for everything, or blame others for their woes are likely not going to make it.  On the contrary, those who believe that the best way to help themselves is by helping others, who don't complain about the injustices of the world and focus on what they can do to make things better are likely going to achieve!  This is the culture of the Yakezie Network.  Remember, the Yakezie Challenge is open to everyone!
THE THIRD WRITING CONTEST COMES TO A CLOSE
Thank you to all of those who have read and voted on the latest Yakezie Writing Contest submissions.  We will be closing the voting booths on Sunday, July 3 at 6pm EST and the winners will be announced by Friday, July 9.  The winners will be rewarded at least $600, $300, and $100 to help pay for their educational expenses.
I believe it is vital that every organization has some sort of charitable initiative as part of their DNA.  Writing is what we bloggers do, and I can't think of a more synergistic endeavor than to host a Writing Contest to further someone's education.  In fact, the Yakezie Writing Contest (YWC) mirrors the Yakezie Challenge.  Nothing good comes easy, but excellence and effort will be rewarded.
LET US CONTINUE
Over the next three months, I look forward to reading the Member Posts of the newest Yakezie Members.  And hopefully come January, 2012 we will get to read another new batch of Members to the Yakezie family.  It is up to the veteran Yakezie Members to welcome the new Members and provide guidance as we introduce them to all of our behind-the-scenes activities.
The great thing about creating something good online is that a virtuous cycle develops.  The more we do, the more we attract.  The longer we exist, the higher the chances we will exist even longer.  The internet is absolutely massive, and there really is no limit to what we can achieve.  I'm so happy that if I or anyone has a problem, we can post a question in the forums and someone will share some insights and provide some solutions.  I'm ecstatic that there's so much positive collaboration that is also providing so much fun for us all.  The relationships are what we should cherish most.  Focus on the spirit and the culture of our Network, and we will be fine in whatever we do.  Great job everyone!
Members, Challengers and readers, how do you see the Yakezie Network evolving over the next 6 months, 1 year, and beyond?  What are some of the challenges and solutions we face as grow bigger?  How large do you want us to grow?  Any thoughts on hosting a Yakezie Awards event for the most outstanding, friendly, dedicated, humorous, ubiquitous, etc Member?
Note: If you are not a Yakezie Member and therefore cannot see your PR on the Yakezie Blog Network, you can also check your PageRank here.  You can also join our discussion forum about this topic here.

Best,
Sam