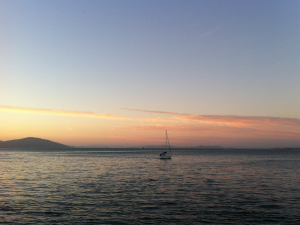 Dear Yakezie Community,
What a year! From Google making heavy changes to their algorithms in the Spring to several more Yakezie Members taking a leap of faith to go full-time online, we've been through a lot!
Despite all the uncontrollable changes we face, we can control our own efforts in the quantity and quality of our writing. Bloggers sometimes get a bad wrap for how sloppily we put together our articles. At the end of the day, most of us are just hobbyists who just want to have fun and share our thoughts. We don't have the luxury of an editor to make our prose sing. Instead, we rely on our own blind eyes and the feedback of our readers to help out where they can.
It's become clear that long, meaty content trumps short and sweet. The average length for the top 10 most searched posts in various categories all average over 1,500 words according to a study done by QuickSprouts. As a result, those who are most serious about blogging should consider writing more in-depth pieces.
I'd like to go through some highlights from 2012 as well as set some goals for the community in 2013. It's so easy to forget what happened in the first half of the year. As a side note, if you're up for promotion or a raise, know that you need to remind your manager about your Q1 & Q2 accomplishments. Otherwise, they will have no idea!
YAKEZIE 2012 YEAR IN REVIEW & HIGHLIGHT POSTS
* You Make It Look So Yakezie – We welcomed a great group of new Delta Class Members in February of this year. A. Blinkin writes the absolute most hilarious Member Post yet!
* Welcomed the Yakezie Epsilon Class in September/October. Check out I'm Not Supposed to Be Here by Dom and See Debt Run as a couple great examples. We'll be opening up the Zeta Challenger class by Feb 15.
* Discovering The Leader Within – A look at the various types of leaders we have and a discussion on introversion and extroversion. It was great to see so many Yakezie Members and Challengers at Fincon.
* Surviving Google Updates: Thick Is In – Google updates their algorithms at least once a month. The recent Exact Match Domain change really crushed a lot of niche sites this Fall. The best way to survive and thrive under Google is to write thick, helpful content in my opinion.
* Yakezie As A Business – Some thoughts on how we can leverage our Network for business opportunities. We've got over 100 Members and a collective audience of millions per month.
* Blogging Will Change Your Life For The Better – I highlight the multiple reasons why blogging will improve your life as well as highlight examples of other people who've really seen an impact from blogging. If you're on the fence of starting a blog, read this post and start one today!
* Winners Of The 4th Yakezie Writing Contest – Three winners won a combined $1,000 to help pay for educational expenses. My favorite is "Doey," a story about a disappointing brother who left his little sister behind only to grow up to be a man and a responsible father.
* Does Soaring Tuition Matter If The Returns Are Even Greater? – Soaring tuition costs and our belief in the importance of education is the main reason why we launched the Yakezie Writing Contest. Every dollar counts in helping folks pay for their education expenses. This article looks at the positive side of rising tuition.
* The Act Of Writing And Saying What We Don't Understand – There's a big debate online whether we should only write what we know about or just pontificate. We should probably mix things up, but stick largely to things we know to build credibility and authority since the web has many authority niches.
* Thank You Adversity For Giving Me The Motivation To Work Harder – After Google made a massive algorithmic change during the Spring, many blogs received PageRank hits. Thanks to Google, we were forced to write better, be choosier on guest posts we host, and figure out new revenue opportunities. The update could be one of the best things that could have happened to the entire blogosphere!
* The Yakezie Value Proposition – Going back to our roots and writing what makes Yakezie.com unique. I encourage everyone to write their own value proposition post on their sites if not done so already. The post will help focus your writing and make you think about your expertise.
* Spending Money On Your Blog: The Good, The Bad, And The Ugly – Mike from TFB spends tens of thousands of dollars a year on maintaining his blogging empire. A great look on the breakdown and how he saves time.
* What Makes You Happy? – It's always good to reflect on what makes us happy when we write so much about money.
* Is This A Business Expense? – An example of a list of potential business expenses bloggers may be able to deduct. Given its tax time, we should all be thinking of ways to optimize our taxes for the New Year.
* Creating Income Streams To Grow Bigger Dreams –  Online income is one income stream we are all very much aware of. Let's continue to grow more income streams to help us do whatever it is we really want to do!
Some big changes for Members: Kevin from Invest It Wisely did to start Digipom, a Android mobile app device company. Joe from Retire by 40 quit at the age of 39 after 17+ years at his high tech company to spend more time with his family. Jeff at Money Spruce left New Haven and moved to Portland to try his hand at freelancing. Andrea launched Nuts And Bolts Media to offer hosting and website design and support services. Way to go guys! Any more I missed, let me know!
YAKEZIE GOALS FOR 2013
* Strengthen the culture. As we continue to grow, it's becoming harder to maintain our close-knit community feel. It's hard to get to know everyone as well as we'd like and we all have different priorities going on in our lives that come first. We've debated for the longest time how large we should let the Network grow (50, 75, 100, 125, 150, 200?) due to the importance of community. I don't think we'll ever be able to replicate the community feel we had when there were only 20 of us. Instead, we should redefine the expectations of the Yakezie community. In essence, the Yakezie is a more of a culture where we are always looking to stick up for one another, help each other when we have problems, and encourage each to go on. One of the best examples is when one Member lost her job, and the Network rallied around her to provide freelance writing opportunities in order to help her pay her bills.
* Continue to support others. The Yakezie Network exists to help other bloggers succeed. So many people don't even bother to launch because the process seems so daunting. Furthermore, once someone launches their blog, they give up after six months due to the lack of support from other bloggers. When I first started in 2009, I got rejected from my first Carnival and wasn't even considered as one of the seven finalists to become a staff writer. I know how hard it is to get going! There are no dues to become or stay a Yakezie Member. And the Yakezie Challenge is there to help motivate you to not give up and maximize your potential.
* Promote more diverse viewpoints from Members on Yakezie.com. I'd like for Members to consider sharing more of their thoughts on Yakezie.com, even if it is just one post a year. It's a great way for other Members and Challengers to get to know each other  better and stay connected. Whether you've written a new book or decided to leave your job, you're welcome to promote your product or news on Yakezie.com. Please feel free to shoot me an e-mail when you'd like to post.
* Launch the 5th Yakezie Writing Contest. It's tremendously time consuming to give money away to the people who need it most. We need to come up with essay questions, spread the word about the contest, raise funds from the community, choose the finalists (one contest had over 1,350 submissions!), perhaps find a sponsor, launch the voting system, make sure everything is above board, write the posts, collect the contributions and send the funds. The reason why we spend so much time in the process is because we believe in a meritocracy. We want to award the funds to participants who make the biggest effort. 100% of funds raised go directly to the winners.
* Consider an entirely new direction for Yakezie.com. I've been thinking about several new initiatives for Yakezie.com. A lot of the potential change will depend on time and opportunity. One idea is to help make a positive difference to the professional finance community.
ONWARD AND UPWARD!
I wish everyone the best in reaching their 2013 goals. Please feel free to utilize the Yakezie Forums if you need help or just wish to hang out with your fellow Members and Challengers. Yakezie.com should be viewed as a resource for bloggers to share their wealth and learn from each other.
Happy New Year!
Sam